A visit to Slots Temple allows you to travel to the heart of Ancient Egypt and experience the wonder of the Queen of all Queens, Cleopatra! Get lost in her world of gold, majestic deserts, pyramids and even meet her lover, Mark Antony in the classic game Rome and Egypt.
Cleopatra Slots
Cleopatra was the last Queen of Egypt before it was usurped into the Roman empire by Julius Caesar Octavianus, following a victory in the Battle of Actium. Born in 69BC, she is unquestionably the most famous of all Egyptian monarchs and it's fair to say she lived a colourful life – she married her brothers (as was an Egyptian custom at the time) and had affairs with both Julius Caesar and later Mark Antony (who she took sides with over the appointment of Caesars heir Gaius Julius Caesar Octavianus). She ended up committing suicide (by way of a bite from an Egyptian cobra) when the Roman's took Egyptian as part of their Empire.
She has certainly left her mark on the world, she is commonly regarded as a great beauty, however, according to Plutarch (a Greek biographer around at the time) it was not her looks that drew powerful men to her, it was her voice and great wit and charm. She was loved by the people of Egypt as the first ruler in the Ptolemaic dynasty to learn and speak Egyptian – up until that time they had all spoken Greek.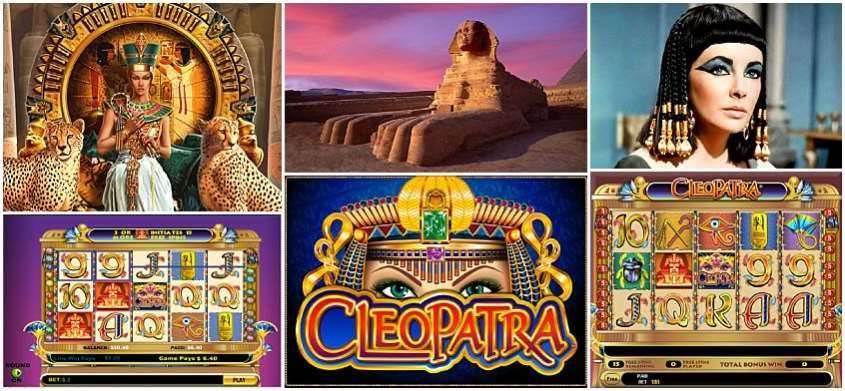 She is perhaps, best known for her relationship with Mark Antony, a Roman ruler, who was so charmed by her that he ended up moving to Alexandria to be with her – they had three children together. Their relationship is depicted in the Shakespeare tragedy Antony and Cleopatra and also the 1963 film Cleopatra in which Elizabeth Taylor plays opposite Richard Burton.
So what is it that makes this legendary Queen such a popular figure and theme for modern Slot makers? Well, the little history lesson above should tell you something of the reason why she has become such an infamous historical figure and it's these same reasons that make Cleopatra such a compelling subject for games designers. An all-powerful Queen living at the same time as the roman empire against a backdrop of the pyramids and golden palaces that housed Egyptian rulers – it certainly was an interesting time. Slot creators love adventure, they love gold and they love strong, beautiful female characters – Cleopatra ticks all those boxes and many more.
The IGT classic, Cleopatra is probably the most famous game of all – huge in both the online and land-based realm – it's the game that kick-started the trend of Ancient Egypt that is so prevalent today. It's not hard to see why it was so popular, it has great sound that treats us to the silky tones of Cleopatra's voice as she tells us to "share in my treasures" as we enter the game, it also has a brilliant free spins round that once you've been in, you'll be itching to get there again. The game proved so popular that it sporned the spin-offs Cleopatra II, Clepatra Plus and Cleopatra Megajackpots.
The other all-time classic that you need to be aware of when discussing Cleopatra-themed slots is the brilliant Queen of the Nile by Aristocrat. This is a game that has been around forever and shows no sign of losing its popularity. It too gave birth an equally popular sequal, the imaginatively named Queen of the Nile II.