How Slots Temple Works
We offer Free Slots in demo mode, Real Money Slots and Free & Paid Slots Tournaments, so you can enjoy Slots Temple whether you want to make a deposit or not.
We subsidise our free tournaments and free slots via revenue earned when visitors sign up to partner real-money casinos via our affiliate links – but, there is absolutely no obligation for you to do this.
Slots Temple's Business Model
Slots Temple operates both as Casino Operator and on an affiliate business model. The affiliate business model means that partner casino operators pay us for the traffic that comes from our website - so, by clicking on our links and signing up to partner online casinos through Slots Temple, you contribute to our operating costs.
There are two ways that online casinos pay us for the traffic that we send their way:
Commission: The casino operator pays us a share of the money spent by the player that we have referred to them.

Cost Per Acquisition (CPA): A fixed amount of money that the casino operator pays us whenever a player claims an offer advertised on Slots Temple.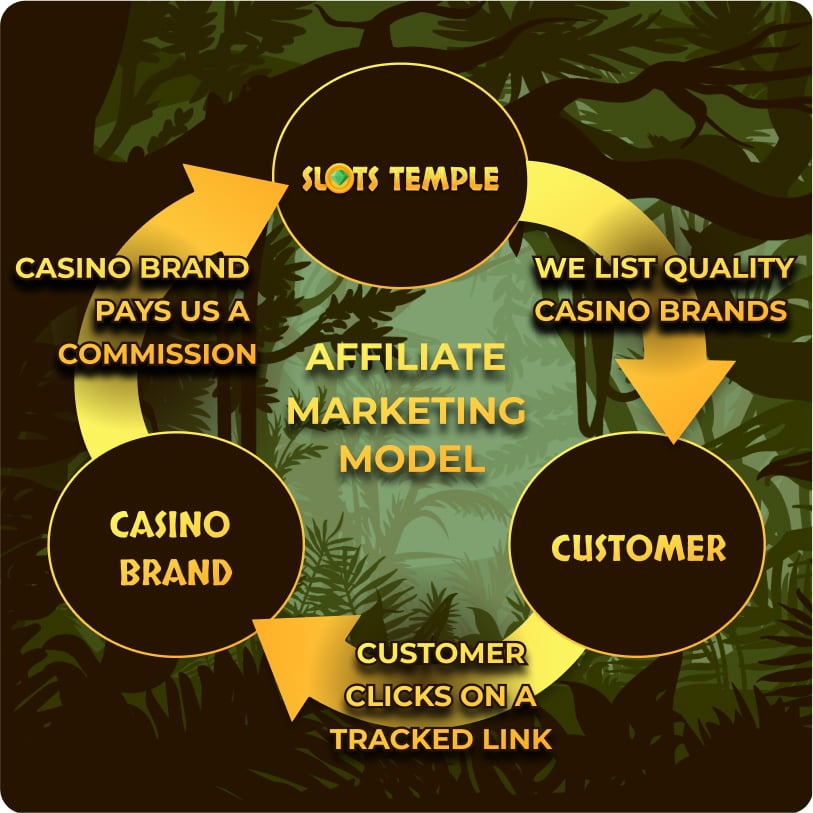 Casino Reviews and Transparency
Affiliate links are located in our casino reviews via the Sign-up button. Slots Temple casino reviews are designed to provide you with an in-depth look at the kind of gaming experience you can expect from each individual site.
Even though we review our affiliates, we maintain transparency in our content. So, we will never say anything that isn't true about an operator. We also try to list negative points so, you will know about any potential issues with the site that might affect your opinion.
Game Reviews
All of the free slots that are available to play at Slots Temple have been reviewed by our team of gaming experts. As is the case with our casino reviews, our game reviews try to be as fair as possible - including Pros and Cons about each slot.
We also understand that slot players have different tastes so, we write our reviews with this in mind. Even if our reviewers really love a game, we will highlight the areas that could be improved from the perspective of players who may not enjoy the slot as much.
In our slot reviews, affiliate links are located in the frame below the game. So, we will potentially receive a commission from the casino operator when a player clicks on the Sign Up button, registers and plays at the advertised Casino.
Casino Bonuses
Players who are looking for bonus offers can visit our bonus pages. Here, we list all of the different offers available from our Casino affiliate partners. All terms and conditions are included with each bonus we advertise.
Slots Temple Tournaments and UKGC License
In order to provide cash prizes for Slots Temple Tournament players, and offer real money online slots we have obtained a license from the United Kingdom Gambling Commission (UKGC).
This means that we are compliant with the UK's gambling laws with regard to operating a service that provides cash prizes. Players must be of the legal gambling age in the United Kingdom, and we verify all users' ages using Experian.
We also check the player's GamStop status. This means that, if a player has self-excluded from any GamStop casino, they will not be able to access Slots Temple Tournaments or our Real Money Online Slots.
Safer Gambling
At Slots Temple, we're committed to ensuring that our players are enjoying slot games responsibly. We have implemented a number of responsible gambling tools to help anyone who believes they are worried about their gaming habits.
Time Outs: You can choose to pause your account for a minimum of 24 hours, up to a maximum of 6 weeks. You'll be logged out of your account immediately and won't be able to log back in until the specified time has elapsed.

Reality Check: Once you've selected your reality check time frame (for example 20 minutes) you'll get a pop-up at every 20 minutes to ask if you want to continue playing.

Self-Exclusion: This will lock you out of Slots Temple for a longer period of time, ranging from a minimum of 6 months, up to a maximum of 5 years. The account will remain inaccessible for the requested period and will not automatically reopen.
You can learn more about tips for safer gambling how to recognise the signs of problem gambling, as well as where to find resources about confidential support, protecting minors and using responsible gambling tools on our Safer Gambling Page.