We Played in 3 Slots Tournaments…and Here Are Our Exciting Results
Tournaments present players with a brand new way to experience their favourite online casino game. You can vie for the chance to win some great prizes while competing with other players. It's definitely a novel concept, and we wanted to give the top slots tournaments a try and report back to you.
Read on to find out about our experience playing in slots tournaments from Mr Green, Casumo and VideoSlots.
VideoSlots' Battle of Slots
Battle of Slots is VideoSlots version of a slots tournament. You're given 40 spins to wins as many coins as possible. Each game has a different maximum wager, usually ranging from 10p to 20p. Bear in mind, you're not wagering with your own money. It is sort of like playing with play-money chips, so you don't spend any cash (aside from your buy-in) and anything you win during the same is paid out as points rather than cash prizes.

A shot of the action in a VideoSlots tournament.
Then, you get points based on the amount of coins you win. This is an example of a paytable in a VideoSlots' Battle of the Slots:
| | | |
| --- | --- | --- |
| 1st | € 49.50 | 33% |
| 2nd | € 33.00 | 22% |
| 3rd | € 21.00 | 14% |
| 4th | € 18.00 | 12% |
| 5th | € 15.00 | 10% |
In some tournaments, you have the option to buy back in and vie for the chance earn more points. This is sometimes a good idea, if you're not far off catching up to some of the top players on the leaderboard, especially when you're playing in a £1 tournament.
What's great about playing in Slots Battles at VideoSlots is that there are so many to choose from. There are all sorts of buy-ins and prizes available, and you can even take part in freerolls. Sit n Gos are also available at varying buy-ins. It's almost like browsing the tournament lobby on a poker site.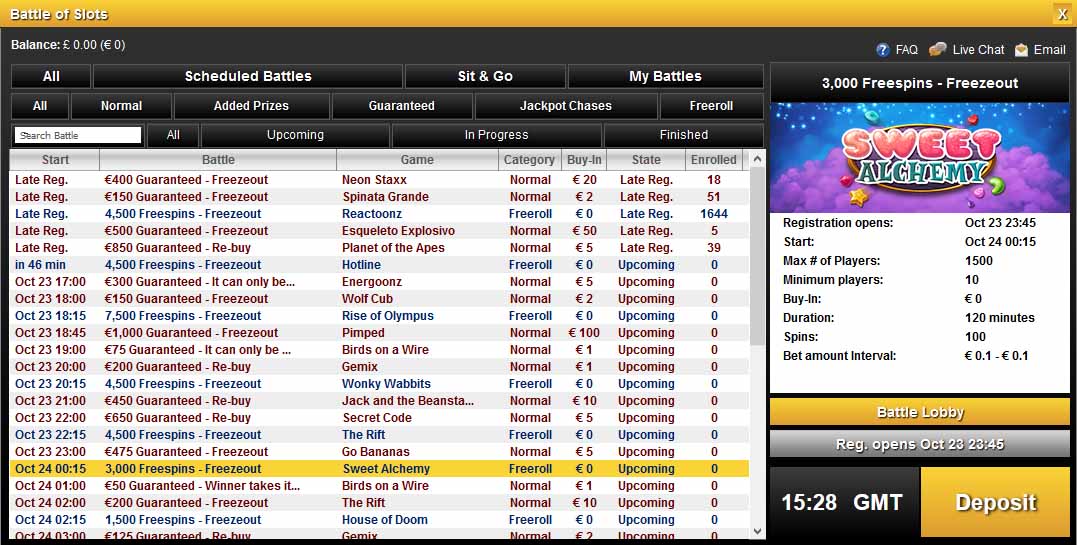 The Videoslots Tournament Lobby, where you can find all sorts of competitions.
Mr Green's Reel Thrills
Mr Green's Reel Thrills tournament is a little bit different, as you're wagering with your own money. Instead of calculating your points based on the amount of coins you've won, your points are based on your total win percentage. So, it can be a little bit difficult to really keep track of how well you're doing.
According to Mr Green:
"Your biggest percentage win over 20 spins determines your points and position on the leaderboard. So, a spin of £0.25 that wins £10 is worth more points than a £100 spin that wins £150!"
In this tournament, you're not offered cash prizes but instead a number of free spins.
- 1st Place: 100 free spins
- 2nd Place: 50 free spins
- 3rd place: 25 free spins
- 4th place: 10 free spins
- 5th place: 5 free spins
The game that you win the free spins on differs in each tournament, but your wager is still only 10p. As a result, placing anywhere less than 3 rd place is not really worth the price of entry.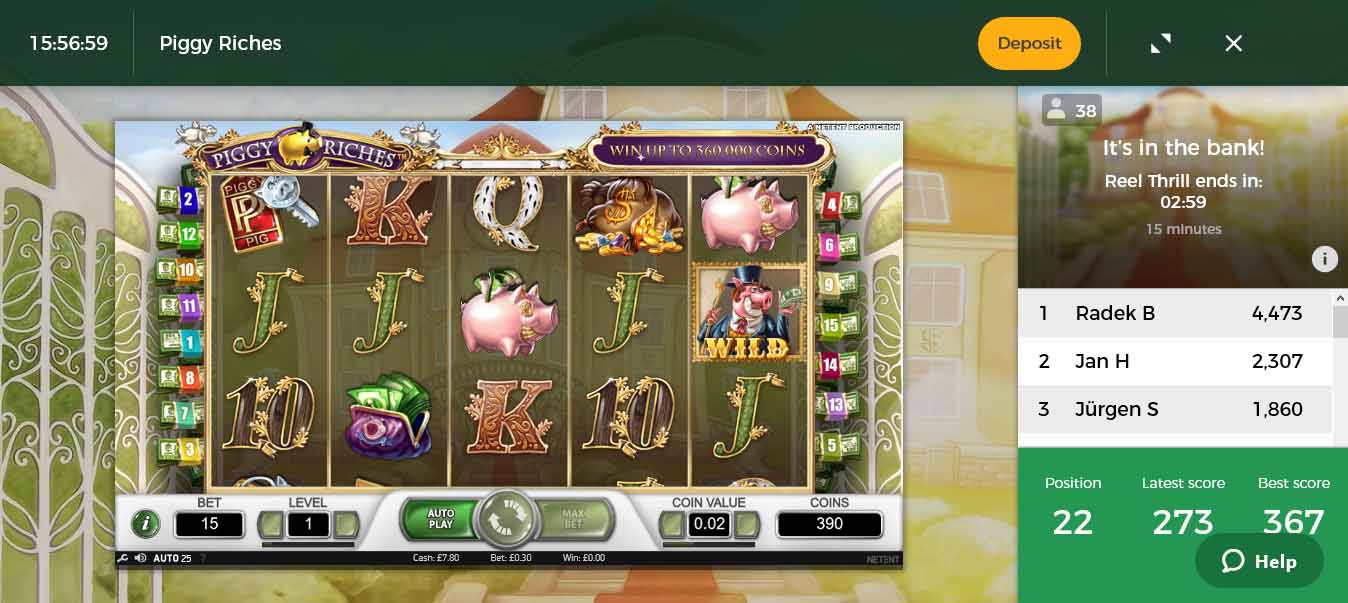 A look at a Reel Thrills tournament from Mr Green.
The upside to playing in a Reel Thrills tournament is that you can keep whatever you win during the event. If you're really lucky, you'll be able to boost your bankroll during the tournament. However, it should be noted that Mr Green has a £30 minimum withdrawal limit.
Casumo's Reel Races
In this particular slots tournament from Casumo, there are some specific rules about how you earn points:
- Single win: 5 points
- Big win: 50 points
- Mega win: 200 points
- 3 wins in a row: 50 points
- 3 big wins in a row: 300 points
You're given 220 spins and 20 minutes to earn as many points as possible. While the event is on, you can keep track of you position in real time. Only the Top 5 places award free spins and if you're only of the lucky players you'll receive between 5 and 50.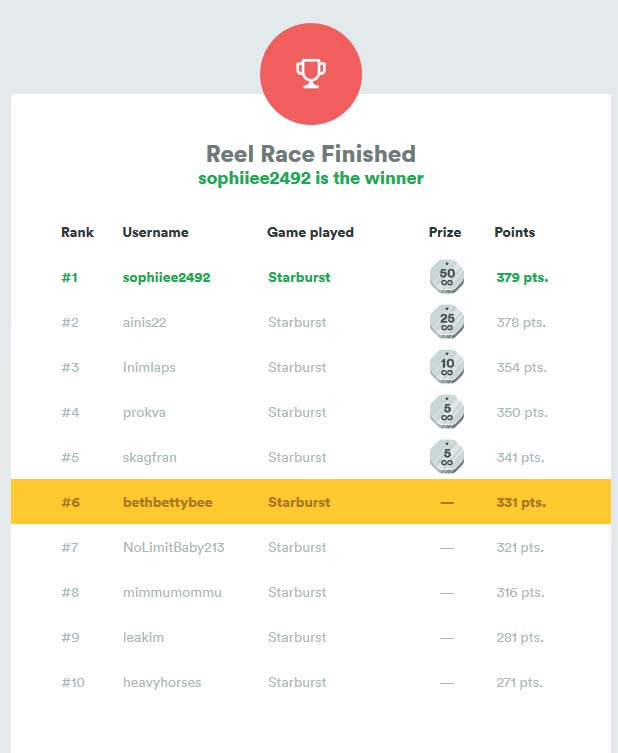 The results of our Reel Race tournament.
Whatever you win during the Reel Race is yours to keep. So, even if you don't earn any free spins, you may still be able to cash in on some payouts.
There are also daily Reel Races that offer you cash prizes. However, the minimum wager is 40p and you're given 600 spins. So, you need a bankroll of £240 to really maximize your odds of winning.
Which Tournament is the Most Profitable?
We might be a little bit biased, as VideoSlots' Battle of the Slots was the only one that awarded us with a prize – but it really does seem to be the most potentially profitable of the bunch. It's also the best option for players who are on a budget, since the only money you have to spend is on the buy-in.
Even though you don't get to keep the prizes that you earn in the tournament as cash, the rebuy feature can really help you boost your odds of winning. There are also plenty of winning places, so you can come 10 th and still win a prize.
The main downside is that any big wins that you earn during the tournament are not credited to your account but instead counted as points. So, what could have been a prize worth £40 ended up counting towards our points total. While we still earned a great prize, the actual payout from the game would have been worth more.
Which Tournament is the Most Exciting?
It was difficult to decide, but we think the most fun tournament is the Reel Race from Casumo.
If you play in Mr Green's Reel Thrills or Casumo's Reel Races, you're competing in real time against other players since there is a time limit. As the clock counts down (15 minutes for Reel Thrills and 20 minutes for Reel Races), you watch as you climb the leaderboard past the other places.
In the VideoSlots Battle of the Slots, this isn't the case. Since there are 120 minutes available, players can start and finish at any time, so players' positions will change while you're not watching the leaderboard – which can take away some of the excitement.
Even though you have more time available, Casumo's tournaments seem to be more fast-paced. It's quite easy for players to earn points, so their positions are constantly changing. There's also a time limit metre running along the top of the screen and you can see how many spins each player has left.
If you can't decide which tournament is right for you, we've broken it down:
Pros

Cons

Casumo

Keep your cash winnings

Min. withdrawal (without fee) of £10

Watch results update in real time
No minimum number of spins to qualify

Only 50 free spins offered as grand prize

20 minute time limit

Mr Green

Keep your cash winnings

Watch results update in real time

Minimum withdrawal of £30

15 minute time limit

Must qualify into tournament by spinning 20 times

Video Slots

Cash prizes offered

Huge range of tournaments daily

Re-buys available

120 minute time limit

Minimum withdrawal of £20

Cash winnings only count as points
It's All About Luck
When playing in any online slots tournament – no matter what the format – it's all about luck. You can only climb the leaderboard if you land wins and you have to be lucky to make that happen. As such, there are only a few tips that we can advise.
Make the most of your time. If there's a time limit on the game, make sure you get all of your spins in before time is up. So, it's best to get started as soon as the tournament starts and make good use of the Quick Spin function to make sure you can fit all of your spins in during the allocated time period.
Don't be afraid to rebuy. Taking the opportunity to rebuy is a good choice if your first go-around got you fairly high up on the leaderboard. VideoSlots gives you several chances to buy-in, so you can take advantage of a winning streak in order to enhance your odds of coming out on top.
While we can't tell you exactly how to win in a slots tournament, we can guarantee that you're in for a good time. It's up to you to decide which online slots tournament is ideal for you, so pick one and enjoy!