If you're looking to liven up your night, then the TED slots game found at Slots Temple is sure to make your free time more exciting. TED is a free slots game designed and developed by BluePrint Gaming, and it's made to make you laugh! Ted the teddy bear's antics may be enjoyed for free on mobile and tablet as well, so take him for a few spins and set your gut to busting. Find out the best casinos where you can play Ted slots online with great bonuses and exclusive bonus codes!

Read our full review below.

Best Casinos and Bonuses to Play Ted Slot
Below is a list of the best casinos where you can play Blueprint Gaming's Ted slot online - and some great bonuses to boot! Re bonuses listed below: New Customers Only. 18+. Ts&Cs Apply.
Bonus Codes for Ted Slot
To get bonus cash to spin the reels on Blueprint Gaming's Ted slot, you don't need any bonus codes! Claiming the welcome bonus at any of the above casinos is a quick and convenient process whereby all you have to do is make your first deposit. Then, the bonus cash and any accompany free spins are credited to your account immediately. This means that you can get playing Ted for free right away!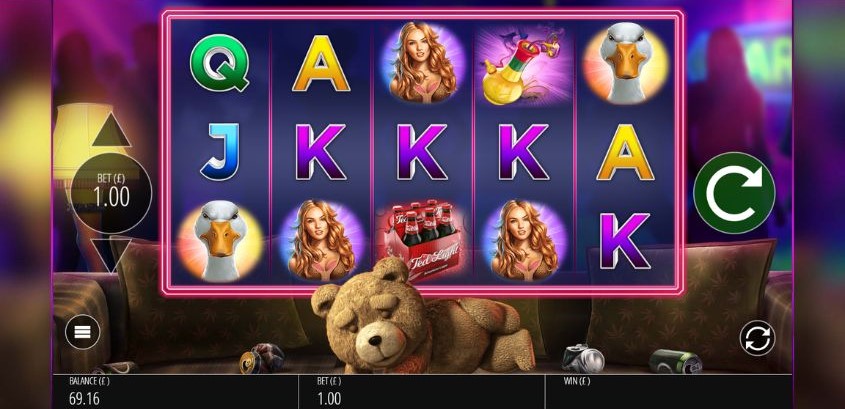 Can I Free Play TED Slot?
Yes, you can! As you can see from the frame above, we have found a link to this game in demo mode that allows our visitors to try TED Slot for Free. It's always a good idea to try any game you are considering playing for real money in demo mode - it'll give you an idea about gameplay and payout rates and help you can make a more informed decision on whether it's a game you'll enjoy.
Who is Ted?
Ted the teddy bear is a mischievous but lovable anthropomorphic bear from Seth MacFarlane's 2012 comedy film, which is also called "Ted." The rambunctious bear loves to drink, do various recreational substances, and party with all sorts of people. His freewheeling attitude has a flip side, however, in his relationship with his best friend. Though Ted can be wild and irresponsible, his loyalty to his friend John is heartwarming, and it makes Ted an interesting character to watch.
How to Play Ted Slot Online
TED the free slots game is a 20-line slot with a minimum $0.01 bet on each line, which means that the minimum bet for each spin is 0.20. The maximum bet for each line is 25, which brings the maximum bet for one spin to 500, though keep in mind that you begin the game with 100 so you won't be able to make the maximum bet until you've won a bit and had some fun with Ted! An autoplay function is available, allowing you to play up to 100 games.
You can also set a loss limit up to 50x your bet (or unlimited) and a single session win limit up to 75x your bet (or unlimited). There is no gamble function available but this is becoming a more and more outdated feature that you won't find on very many modern slots.
The slot has five reels with three rows each, so all sorts of party symbols can be matched together. Since TED is a 20-line game, matching symbols from multiple winning lines are added together to total your winnings. This ensures that every spin brings you closer to big winnings and adds to a fun night with Ted!
Ted Slot Big Wins
The great thing about spinning the reels on Blueprint Gaming's Ted slot is that there are some very impressive wins available. Ted himself is the wild symbol that awards prizes worth 500x you're total stake along with super stacked logo symbols. It is also important to note that all four of the high-paying symbols pay out for 2-of-a-kind wins. Most online slots only start paying at 3-of-a-kind combinations, so Ted offers up higher volatility as you can hit wins more easily.
Ted Randomly Parties Harder
Below the neon red square that frames the reels, Ted sleeps, and every so often he wakes up with a start. When this happens, prepare to party hard and spin to win, because the friendly bear will pick one of six modifiers to enhance your chances of matching symbols. You may receive one of the Psychedelic substance bonuses, a TV Streak or something else entirely--no matter which modifier Ted gives to you, you'll be laughing and feeling good!
Laser Gun Wilds: Ted fires a laser beam to turn random symbols wild
Psychedelic Super Spins: Ted smokes his hookah and adds extra Ted symbols to the reels
Beer Streak: after a winning combination, Ted will reshuffle the symbols to make another winning combination
Psychedelic Colossal Spin: three reels combine to make one colossal reel, which vastly improves your winning potential
TV Remote Symbol Streak: after a win, the winning symbols are held in place and you'll receive one re-spin
Psychedic Bonus Boost: bonus symbols are added to the reels to improve your odds of hitting the Thunder Buddies bonus
Heartwarming Bonuses
Those who watched the film know that both Ted and his best friend John are terrified of thunder, and, to keep each other's spirits up during thunderstorms, they sing the "Thunder Buddies" song together. Thunder Buddies is also the name of a significant bonus in TED the slots game, so don't run and hide if you hear a thunderstorm approaching--sing the "Thunder Buddies" song if you have to, and keep spinning! There are five unique bonuses that can be triggered during this round. A prize wheel will spin to determine which bonus you'll receive.
Wheel of Fart-une: free spins with increasing multipliers
Bar Crawl: move beer bottles around the board to detemine the ourcome which can award free spins, multipliers or random cash pries
Super Mart Free Spins: five free spins during which a new pattern of multipliers is revealed each round
Flash Free Spins: a free spins round that you can retrigger and add extra wilds to
Big Money: a prize wheel bonus where you can win up to 500x your stake
Each of these bonuses is original and engaging. They really encapsulate the film and its characters with raunchy humour and fun animations. Not to mention - they provide you with the chance to earn some amazing prizes.
What is the RTP of TED Slot?
BAsed on long-term payback TED Slot has a theoretical RTP (return to player) of 95.805% - this means that every £100 wagered gives you back £95.80. This is a fairly standard payout rate for an online slot, making it a medium volatility game. This means that you can expect TED to pay out moderately-sized prizes fairly regularly.
Ted Slots on Mobile - Android, iPhone and Apps
Like all titles from Blueprint Gaming, Ted is available to play on both mobile and desktop devices. The game is optimised for play on tablets and smartphones with convenient overlay buttons that don't distract from the rest of the game's graphics.
Even when playing on a mobile device, you'll still have access to all of the great bonus features, fast-paced gameplay and impressive graphics that are available on the desktop version of the game. Since Ted has been developed using HTML5, the game is available to play directly from your web browser. There is no need to download any software, saving you space on your device. This means that it will run perfectly on iOS, Android and Windows devices.
Ted Slot - The 100 Spin Experience
If you want to know exactly what you're getting when you spin the reels on Blueprint Gaming's Ted online slot but don't have the time to give the game a go yourself, check out our 100 Spin Experience. Here, we take an in-depth look at the game over the course of 100 spins to let you know what the game is all about so you can decide if you want to give it a spin! Firstly, the game is quite rich in graphics and multimedia so it does take some time to load.
Give it a few seconds, as the loading metre progresses. It shouldn't take more than 20 seconds. We set our bet to a moderate size, £2, and set an unlimited loss limit and single win limit for 100 spins. At first, there weren't too many wins to be had and it took until the 10th spin before things started picking up.
Once they did, we were on a roll. The random Ted bonuses really added to the gameplay, as we were eager to find out what mischief he would get up to next. Unforunately, we didn't trigger the free spins round during our 100 Spins session, but the overall experience was amusing and we definitely wanted more.
Enjoy Ted Slots? Why Not Try...
Ted is one of the most entertaining online slots out there at the moment, but we understand that you might want to try something a bit different after a while. That's why we've come up with this list of games that you're sure to enjoy if you've loved playing Ted!
Give any of these fun online slots a spin for free and you're sure to have a great online gaming experience. At Slots Temple, we highly recommend the above slots for all sorts of fun and excitement!
About Blueprint Gaming
Blueprint Gaming is a leader in land-based and online slots design. Over the course of a decade, the company has installed over 100 000 terminals across Europe and has gained a following at online and mobile casinos. You'll always find impressive games from this developer, as they strive to create innovative and engaging games using branded content and their own unique designs.
Ted Online Slot Review Verdict - A Good Time, Guaranteed!
TED the slots game by Blueprint is free to demo, just like the hundreds of other no deposit Slots at Slots Temple, so set aside a free night and enjoy yourself with Ted the teddy bear, as the sound of winnings piling high ensures you won't regret it.
Where You Can Play Ted Slots Online
Ted from Blueprint gaming is available to play at dozens of casinos across the web. We'd highly recommend playing at Casumo, a new name in online gaming, which offers new players a welcome bonus up to £300 along with 20 free spins. The site is also known for its Reel Races, which redefine everything you thought you knew about online slots tournaments!
* TED trademark / license is owned by Blueprint Gaming. This site is not endorsed by Blueprint Gaming.