4ThePlayer has recently released its first-ever progressive jackpot game, 5K Gold Mine. That, in itself, is a huge accomplishment - but, it's made even more exciting by the fact that, just a few days after it launched, it paid out a €2,311,598 jackpot prize!
We sat down with the studio's product director Geoff Scaplehorn for behind-the-scenes look at 5K Gold Mine. He walks us through the design and development process of 4ThePlayer's first Dream Drop slot, and gives us some insight into what they are working on next.
Firstly, congrats on creating your first progressive jackpot slot! We've played the demo and it's lots of fun! What was it like creating a progressive game with Relax?
Thank you! 5k Gold Mine was a lot of fun to work on, and Relax made the process of integrating with their Dream Drop system as easy and intuitive as possible. They provide a lot of documentation and obviously, the bar on the side of the screen that shows the jackpots – we just needed to build the best game possible to present them!
We were given a lot of creative freedom in how to award those jackpots to the players – to the point that we could literally make up a whole bonus feature that awards the jackpots, and then tie that into the main feature of the game in terms of theme and presentation.
That's an unprecedented level of control for a studio tying into someone else's jackpots, and so much more satisfying than just having a random jackpot win on any spin. Relax are always great to work with – they are incredibly supportive and we're got a fantastic partnership with them.
What adjustments do you need to make to the usual mechanics of your games to support a progressive jackpot?
The adjustments are twofold, really: you need to account for the jackpots in the maths, and then you need to present the jackpots to the player, which we chose to do in a unique feature that was triggered from the main game bonus.
Mathematically, every spin needs to contribute to the jackpot – that's what makes the jackpots grow and keeps them enticing for players. As with any other feature in a game, that becomes a balancing act – you have to give a certain amount per spin, so can we afford to give this feature as well or should we do something else? Thankfully, we have proper math-magicians working at 4ThePlayer, because they can squeeze every penny out of a game to give an amazing experience to the players!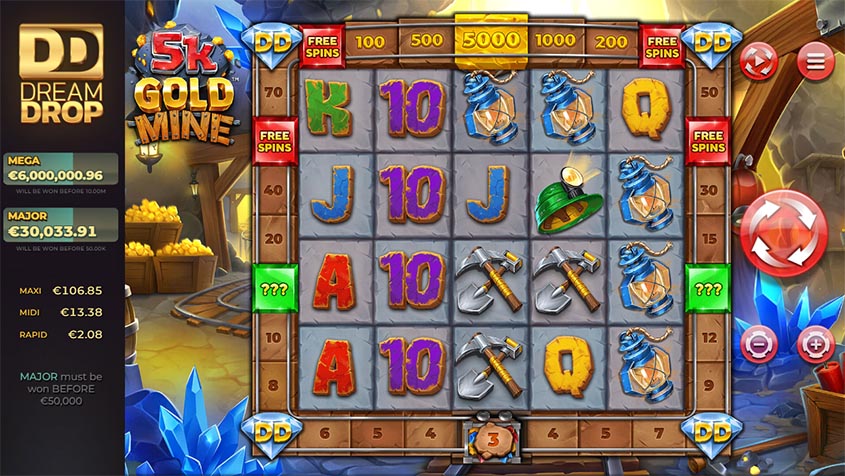 To present the jackpots to the player, we decided that we wanted to do a trail because that would fit alongside the main game trail bonus. We think the feature we came up with works really well – the jackpots feel properly integrated with the game theme!
The trail bonus is such a cool feature! What inspired you to create it?
I think the initial idea was that we wanted to create a trail, because we love trail features, but one that was always active and that felt like you could win something decent from. A lot of trails have an issue in that players very rarely get to the top end, because once they're up there then you need to award them a massive prize. We wanted you to be able to reach the top end more frequently.
We also wanted a trail that was directly controlled by the reels, rather than it just being its own thing. Any spin can propel the player round the trail or award a cash prize, so the player is continually looking forward to a potential win or free spins bonus.
Did you feel a lot of pressure to make your first progressive jackpot slot really stand out?
In all honesty, we feel a lot of pressure to make every one of our slots stand out! We had a lot of support from Relax as obviously Dream Drop is their baby, so we knew that we weren't doing anything too far out on the innovation scale. Even so, we always want to make our slots the best they can be, so we spent a lot of time making sure it was fun to play and that the players could feel the win potential.
That said, 5k Gold Mine paid out the Dream Drop MEGA jackpot a couple of days after it went live, which is amazing news for one lucky player - they won an incredible €2,311,598 on Casumo's online casino after placing a €0.60 bet on 5k Gold Mine Dream Drop! We hope they enjoy their winnings!
One amazing thing about the Dream Drop is that it has a guaranteed 60% reseed value for its Major and Mega Jackpots every time one of them is won. This means that the MEGA is already back over €2.4 Million and must be won by €3 Million!
A lot of your slot themes are pretty unique (time travel, yetis, King Kong in Vegas, etc) - what made you go with a more traditional slot theme for 5k Gold Mine?
We review a lot of themes for every game – we've got a massive list of themes we want to try, both traditional and more esoteric. We released 3 Lucky Leprechauns just before 5k Gold Mine, which has about the most traditional slot theme you could think of – although of course we gave it a 4ThePlayer twist by letting players choose which leprechaun they wanted on their wilds – but before that we had 9k Kong in Vegas, which went down extremely well and even won a Slots Temple award for its art!
The fact is that the gold mining theme went splendidly with the idea of a trail, so it was a bit of a no brainer. Who doesn't love a mine cart on a track?
Now that you have quite a few games under your belt, which is your favourite that you've created so far?
It's a tough question because every game is my favourite while we're building it! I play 4 Fantastic Fish for real money more than the other games, so I guess that counts?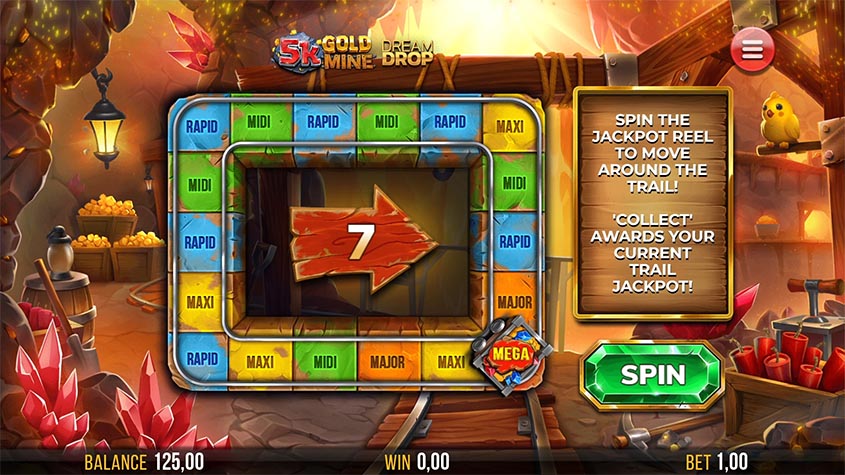 That said, I think 9k Kong in Vegas is our best-looking game, and 3 Secret Cities and 4 Secret Pyramids have BONUS↑UP, which I think is my favourite feature overall.
From a game mechanic perspective, is there anything you would like to experiment with in the future?
Loads! But I'm not allowed to talk about anything because we are a naturally experimental studio, so anything I say might actually be used in an upcoming slot! We're always trying to find ways to improve the player experience and make slots even more fun!
Are there any other exciting games and features you have in store for the coming year?
Of course – we always have a selection of new games brewing at any given moment! Keep an eye out if you like dogs, Norse mythology, or other large hairy animals. And we might be looking at some more traditional lines games too, to which we'll obviously give the usual 4ThePlayer twist.
We're also looking forward to our first retail game this year, thanks to a partnership with our friends at Reflex Gaming, so players in the pub will be able to have the 4ThePlayer experience. Watch this space!