Is "Feature Drop" Worth the Money?
Big Time Gaming's Feature Drop mechanic makes games from this developer incredibly exciting, offer players the chance to cash in on impressive prizes without having to wait around for free spins to be triggered. It's an inventive gameplay function that really sets games like White Rabbit and Extra Chilli apart from other modern slots. So, we decided to give these games a spin and test out the Feature Drop.
Our goal was to find out if it really is worth buying the Feature Drop or if it's better value to simply wait for the game to trigger the bonus round on its own. Read on to find out more about our results.
About Feature Drop
Feature Drop is a unique function that you'll only find on Big Time Gaming titles. It allows you to buy the bonus feature outright instead of waiting for the bonus round to be triggered naturally – by landing scatters. It definitely seems like a great draw for players, especially if you want to get straight to the point. However, it can take some of the fun and spontaneity out of things.
White Rabbit Feature Drop
In White Rabbit, the Feature Drop costs 100x your stake. When you land BTG symbols, you can lower the price – but these don't really come around very often.
We purchased the Feature Drop five times, and wins for each bonus was:
- 19.75
- 12.87
- 25.60
- 18.00
- 18.12
There were some instances where we were able to double our investment, but others where we only made 5x our stake. Still, with an average of 1.6x our Feature Drop cost, we were pretty pleased overall.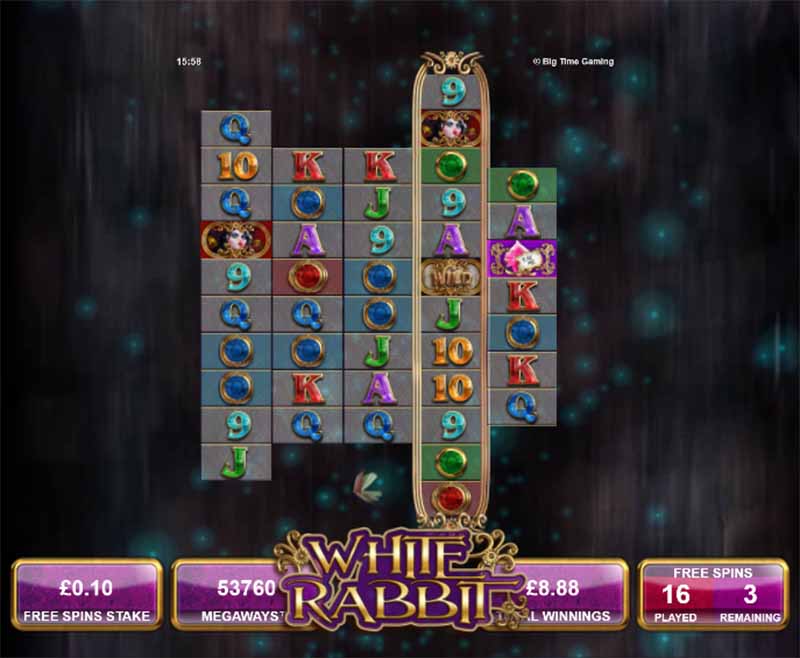 Then, we moved on to trying to trigger the free spins round naturally. We gave it five sessions of 100 spins (the cost of the £10 Feature Drop), but weren't able to land the free spins bonus. Of course, your experience may be different.
So, if you're finding it difficult to land the free spins bonus in White Rabbit, it could certainly be worth your while to drop a little bit of extra cash on the Feature Drop. The free spins bonus has the potential to offer up some very impressive prizes thanks to its expanding reels format, and you really don't want to miss out.
Extra Chilli Feature Drop
Extra Chilli is the other game from Big Time Gaming that also offers the Feature Drop bonus. During this game, players can purchase the Feature Drop for just 50x their wager – which is half the cost of White Rabbit's Feature Drop.
This time around, we purchased the Feature Drop five times. The win for each bonus round was:
- 20.90
- 9.86
- 10.01
- 23.83
- 1.24
We noticed that our wins were significantly lower than they were when we purchased the White Rabbit Feature Drop. While there were some quite big wins, there were others sessions where we didn't even land a profit. As such, our average bonus win was much, much lower in Extra Chilli than it was in White Rabbit.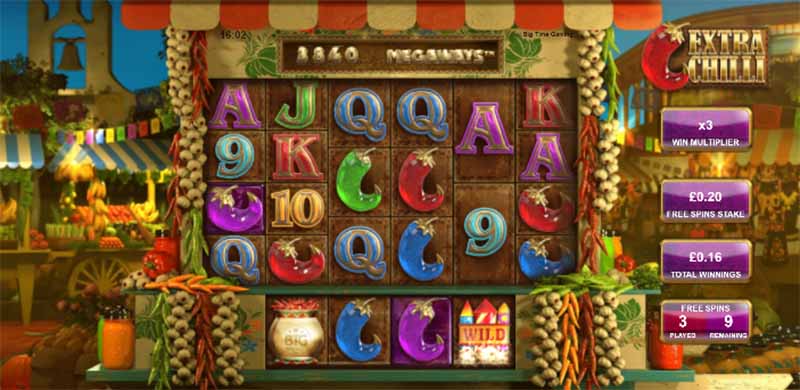 It was in Extra Chilli's base game where we managed to cash in on the big wins overall. After 100 spins on the base game, we managed to scoop a total win of over £20 on 10p wagers. It is much bigger win than we earned during any of the free spins rounds.
This is likely due to the game's cascading reels format. Whenever you hit a win, the winning symbols disappear and new ones fall into their places. So, you have the chance to hit multiple winning combinations in a single spin.
Our Verdict
Buying the Feature Drop definitely does pay off when playing White Rabbit. There are some online slots games out there where it does take quite some time to land the free spins bonus naturally and, it's a great thing that Big Time Gaming gives players the opportunity to buy in to the bonus whenever they'd like.
Even though it's more expensive to purchase the Feature Drop in White Rabbit than in Extra Chilli, the bonus provided us with a better average win from its free spins round. In Extra Chilli's bonus, we landed some pretty big wins – but they were balanced out by the ones that weren't so generous.
Of course, it's still down to luck. So, our gaming experience will be different from yours – but we think the general idea will be the same. Due to the inherent formats of the two games, Extra Chilli provides more wins during the base game and White Rabbit is more generous in the free spins round.
We still recommended giving the Feature Drop a try, as it is a novel online slots function that makes for more exciting gameplay overall. You're sure to enjoy this added touch that enhances your gaming experience.