Launching your debut slot is pressure-filled task, especially when that game is a Megaways title - but Buck Stakes Entertainment has pulled it off with aplomb! The release of 8 Golden Skulls of Holly Roger Megaways™ Firepot™ has been a huge hit and we've had a chat with Head of Buck Stakes Entertainment, Andrew Guy, about the studio's first release and their vision for the future.
Q. Was there any pressure developing a Megaways as your first online slot?
A. Although we are a new team working in a new studio, we've been a part of the industry for a long time, and so in producing the game, there wasn't a lot of pressure from using the mechanic itself. There's always a desire to make a game that's entertaining and that players will love - and that's the pressure that we put on ourselves.
Megaways™ is an awesome mechanic that gets a lot of attention, but the pressure is simply to make a really good game that players will want to play.
Q. Regarding the process of designing a Megaways game with Microgaming, how collaborative is the process?
A. It's collaborative in the sense that we went to Microgaming and said, "What are you guys looking for?"
They're obviously dealing with a lot of operators and receive a lot of feedback from the market. We've seen a flood of new Megaways™ games arrive in the market, and it's because of the way they play that makes them popular. So, when Microgaming presented the opportunity for us to build a Megaways™ game, we jumped at it.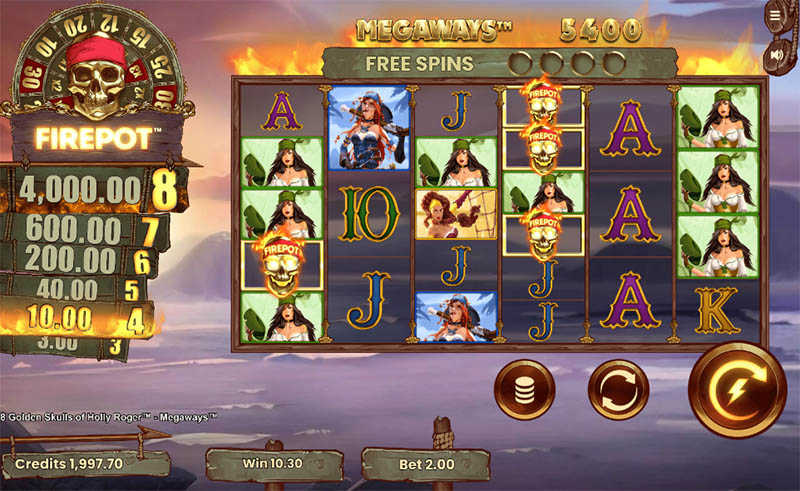 8 Golden Skulls of the Holly Roger comes with mystery symbols, free spins and the Firepot Feature.
We had a few ideas to add a little bit more mystery and reward to the player when they're playing the game, and these are the things that we worked on with Microgaming as we went through the design process. What's been great is the level of trust and support shown by Microgaming to let us deliver our best creation.
At the end of the day, we're creating artwork and we're creating entertainment; it's very difficult to be prescriptive about that and Microgaming understands this.
Q. Do you work with any of the other studios, like Gameburger or Just For The Win?
A. When we're at an event like ICE, a lot of the studios are there and we get to meet one another. So, there's definitely a connection at those types of events, but other than that, we focus on our own games roadmap.
Obviously, we get to see what Microgaming does with the marketing of those other games and how they're perceived in the marketplace. We do chat with other studios about their games on occasion, but that's as far as it goes.
Q. The slots market is becoming saturated with Megaways™ games; how does8 Golden Skulls of Holly Roger Megaways™ Firepot™set itself apart?
We know that there are a lot of Megaways™ titles in the market, so when we got the opportunity to create a Megaways™ game we obviously wanted to make something really cool, but we also wanted to put a little twist on it. We've seen a lot of the same types of Megaways™ games going out, and there have been some really good variants that have been created.
As a studio, we like to be curiously innovative and creative, so we wanted to put a slightly different spin on it. We love the Firepot Jackpot, and thought blending that type of mechanic with Megaways™ would work really nicely.
Going into the free spins feature, we wanted to make sure that there's value there, like any Megaways™ game. So whatever multiplier the player landed on going into free spins, we would then multiply our Firepot jackpot by that multiplier, which hopefully brings a lot of value to the player when going into the free spins round.
Q. The lady pirates all look fab! What was the inspiration for the theme?
A. Thank you for saying that; it's great feedback. We're a very small team and our chief product officer, she has an amazing eye for directing beautiful content. We were talking about themes and we all loved the idea of pirates. I think they work really well in the market, but we didn't want something that was just the normal old pirate.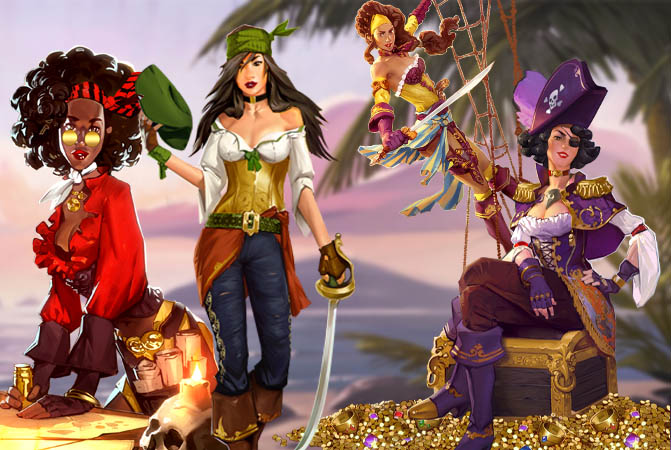 8 Golden Skulls of the Holly Roger Megaways stars an all-female cast.
We thought that a strong lady pirate theme could be empowering for players, particularly females. It was a nice spin, with this band of pirates being a band of ladies on the hunt for Holly Roger's treasure. People would normally expect a band of cursing pirates with wooden legs, but we've got some really classy, beautiful pirate ladies who are doing a better job at finding the treasure than anyone else.
Q. As a new studio, are there any slot mechanics or features that you're looking forward to using in the future?
A. Like any new studio, we always have a vision of where we're going and what we want to do. Right now, we're building a base for the future of the studio; we don't look at ourselves as a one-year-old studio, we're looking to the future.
Right now, we're building a solid base for future growth, but at the same time we've got a strong focus on innovation, and we're currently looking at some key mechanics that we want to bring to the market.
Obviously, I can't say too much about what we're doing, but what I can say is that we are working on some innovative stuff that the market probably hasn't seen yet. But those things obviously take a little bit of time and a base to work off before we can start releasing those out to the market.
Q. Can you tell me a bit about Buck Stakes Entertainment, and your team?
A. We were founded around six to nine months ago. We are a small team comprising nine people at the moment, but we have lots of industry experience across different roles, from graphic design to business analysis to software development. We've worked in various teams around the industry, working on projects like VR gambling games, smartwatches and smart TV. We've worked on land-based slots before, and many of us were among the first people to work on mobile gaming.
So, Buck Stakes is a new studio that's really giving us a platform to focus on the content and the innovation of that content. Based on our history of working on new stuff in the industry, it's really giving us the focus to see what we can do with innovation and how we can apply this to the operators. We want to make sure that anything we release from an innovation perspective gives a great gaming experience, but it must also be useful from a business point of view.
That's our motto at the moment - our vision for the next couple of years is to introduce new games to market that bring clear value.
Q. What drew you to slots development?
A. We're very passionate people - very creative people. We love to play games. I personally love to play slot games, but the market is saturated and offers relatively little innovation across the board. We feel that in slots development there's an opportunity to tie innovation in with slots, and there's definitely opportunity - like we've seen with Megaways™ - to build something that players love to play and that suppliers like Microgaming can obviously utilise to full effect.