Microgaming Launches Hyperspins Slot Series
Microgaming will be launching a new series of online slots games soon. Hyperspins games are designed to give players more control over their online gaming experience by allowing them to choose which reels to re-spin and when to re-spin them. It's an exciting new mechanic, and we couldn't wait to give it a spin.
How Do Hyperspins Work?
Hyperspins are a new online slot mechanic from Microgaming that allow players to re-spin certain reels. After every spin, a new value will appear between each reel, which is how much it would cost to spin it while the rest of the reels remain static.
The value of each reel is calculated based on how generous your prize would be if you were to re-spin it. The prices can range from .01 coins all the way up to over 100 coins. If there are more high-paying symbols on the reels, then the re-spin prices are likely to be higher.
Microgaming's Hyperspins Slots
Currently, there are two slots in the Hyperspins series from Microgaming: Book of Oz Lock n Spin and Break Da Bank Again Respin. Both of these games are expansions of existing Microgaming titles, so they'll be very familiar to slots fans.
Book of Oz Lock n Spin is a 10-payline online slot that offers players a generous top prize of 5000x. There is a free spins bonus round available in this game, where one random symbol is chosen to appear in stacks to help players land wins more easily.
Break Da Bank Again Respin
Break Da Bank Again is a 9 payline slot with another lucrative payout, offering playing up to 4000x their total stake. Up to 25 free spins can be earned during the bonus round, and players will benefit from a 5x multiplier on all wins and a whopping 25x multiplier on all wild wins.
Should Hyperspins prove to be a successful series, we're sure to see more slots with this mechanic. It would be great to see popular Microgaming slots like Immortal Romance and Thunderstruck II be released as Hyperspins games.
Hyperspin Slot Strategy
The interesting thing about Hyperspins is that they give you some control over the outcome of the game. Whereas all other slots are totally random, these Microgaming titles give you the power to potentially increase your odds of winning based on your specific budget.
After landing two scatters, it cost 2.17 coins to spin the third reel in order to land a third scatter and trigger the free spins round – where all wins are multiplied by 5x and wild wins pay 25x. It took just two re-spins to land us that third scatter.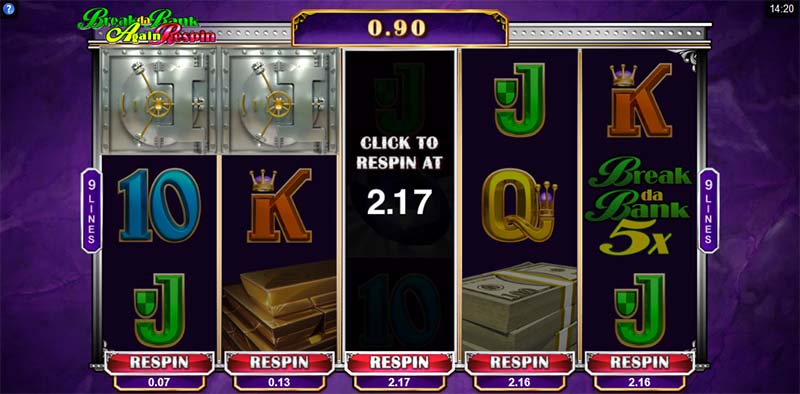 During the resulting free spins round, we were able to cash in on a prize worth 25.15 coins. Since our base game wager was .45 coins, this win was worth 55x our stake. We spent a total of 4.34 coins on re-spins, so it was certainly worth it to use the Hyperspins feature in this situation.
Of course, slot machines are totally randomly, so you might not be as lucky as us. We managed to trigger our third scatter very quickly, and it won't always work out like this. So, it's important that you have a bankroll big enough to support your re-spins.
If you'd like to try out the new Hyperspins feature from Microgaming, you can play Break Da Bank Again Respins now as a free slot. Book of Oz Lock n Spin will be available here as a demo slot and at real-money casinos in September.