A group of gaming industry veterans have come together to change the way we play slots. At 4ThePlayer, slots are developed with player needs as their main priority – bringing new and innovative gaming experiences to players at gaming sites across the web.
"We want to innovate and bring new things to the industry," says Henry Mclean, Commercial and Marketing Director at 4ThePlayer. "Innovation that improves the player gambling experience; not just innovation for the sake of putting something new into a game".
You're sure to notice this dedication to innovation once you get stuck into any of 4ThePlayer's games. Take 9K Yeti, for example, which features a free spins round with guaranteed wins. Anytime a Yeti symbol lands along with a wild, the symbols will reshuffle to award you with a win.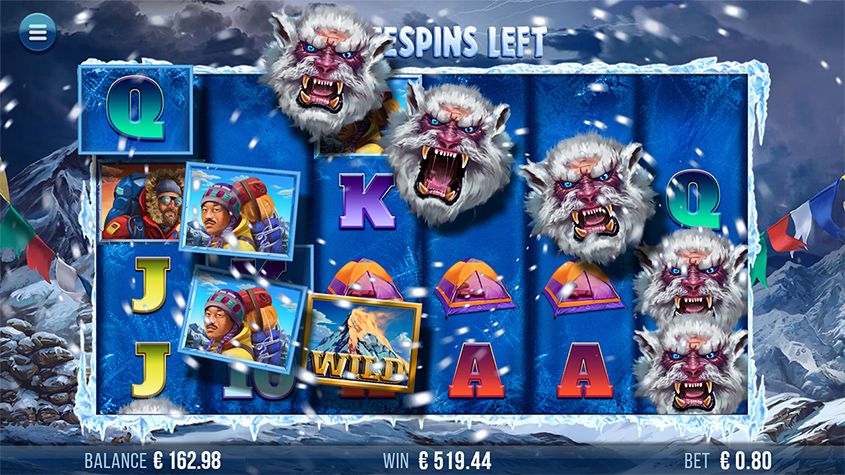 The idea for this feature stemmed from playing other online slots with uneventful bonus games, where triggering the bonus doesn't necessarily mean you're in for an exciting time. 4ThePlayer wanted to avoid this, so the team planned to develop a feature that would keep players entertained even on non-winning spins.
This commitment to player engagement is present in all of 4ThePlayer's games. The brand aims to make its mark by providing players with a gaming experience that gives them exactly what they want from playing slots online: excitement.
Meet the Team
4ThePlayer was established by Andrew Porter, the former Casino Content Manager at Playtech, and Ash Gaming founder Chris Ash. They came together in 2018 with a plan to develop online slots that bring something fresh to the industry with each new release.
The team works totally remotely, which allows 4ThePlayer to find the best possible talent regardless of location. As such, the company has a very international team with a Creative Director in Brazil and the development team working from Ukraine, while the Marketing Director and CEO live in the UK.
Getting to the Heart of What Players Want
With a combined 50 years of experience in the gaming industry, it isn't difficult for the team at 4ThePlayer to know what slots players really want. They have seen through the development of many slots over the years, so 4ThePlayer has unique insight into the kinds of features and gameplay that really engage players.
Plenty of research goes into the development of their slots and game mechanics, as well. The team spends time looking at gaming trends, social media and forums to find out what players are after from their online gaming experience.
Their own experiences with playing slots comes into consideration, as well. McLean says:
"We are all players ourselves so have a good understanding of what we like and what is a big frustration. We want to remove those frustrations and go back to entertaining gambling experiences".
A Commitment to Safe Gambling
Safe and responsible gambling is the highest priority at 4ThePlayer. The team spends plenty of time looking at game mechanics and functionality to ensure that they encourage players to game responsibly.
Underage gambling is another important concern for the team. 4ThePlayer aims to create themes that will only attract adults – with no cartoony themes. As a result, the studios' roster consists of games like 9K Yeti, starring a ferocious monster, and a slot that puts you right in the middle of a zombie apocalypse, 1 Left Alive.
Innovations to Get Excited About
4ThePlayer has plenty of ground-breaking innovations in store for slots players at casinos across the web. Lots of thought has gone into every gameplay detail of each game, ensuring that players will be impressed with the bonuses and features offered by 4ThePlayer slots.
One such example are the Bloody Wilds in 1 Left Alive . During the free spins bonus, the hero will shoot at a zombie (randomly selected before the round begins) that land on the reels at the same time as she does, turning its symbol into Bloody Wilds. Then, they'll drip down the reels on subsequent spins. They fit perfectly with the theme and keep the fast-paced action going as players spin the reels.
Online casino players will also be able to experience the first non-crypto version of Satoshi Dice with 4ThePlayer's 100 Bit Dice game. This game presents an experience truly unlike any other traditional casino game, where players wager on whether the dice will roll over or under a number from 1 to 100. There's plenty of data to analyse, as well, and loads of auto-play options that allow players to strategize.
Finally, there's BIG REEL Portrait Mode™, which takes into consideration that most mobile users play games in portrait orientation. Games in BIG REEL Portrait Mode™ occupy 70% of the screen on devices using portrait orientation, rather than the usual 20%, so players get a fuller, more in-your-face gaming experience.
Take a look at BIG REEL Portrait Mode™ in action below:
You can tell that the team at 4ThePlayer really thinks about the little details in their games. They commit lots of time to the development of each one, so every game gets the love their deserve to ensure that they are totally unique and full of captivating features.
When Will You Be Able to Play 4ThePlayer Games?
We will be seeing the first three releases from 4ThePlayer before the end of the year. 9K Yeti will make an exclusive debut at GVC casinos on November 7th before being available for release on all Yggdrasil sites on November 14th. 100 Bit Dice will be playable from November 5th at Relax Gaming casinos, and 1 Left Alive will debut in December.
In the meantime, you can read all about their exciting new games here at Slots Temple .