BetSoft's Max Quest: Wrath of Ra Merges Skill-Based and Slots Gaming
Online slots fans will soon be able to experience their favourite games in a brand-new way. Thanks to BetSoft, slots RNG gameplay has been merged with traditional video game mechanics in the new Max Quest: Wrath of Ra online slot. It is the first time that these two genres of gaming have come together in the online world, and it is sure to mix things up. And - you can try it out for free here at Slots Temple.
An Ancient Egyptian Adventure
In BetSoft's Max Quest: Wrath of Ra, players head underground to Ancient Egyptian tombs. They are on a quest to uncover hidden treasures, but get more than they bargain for when they are attacked by mummies, scarabs and demons. Players must shoot down these enemies to recover the treasure, earning impressive along the way.
Unique Skill-Based Slots Mechanics
While it sounds like your typical adventure video game, Max Quest: Wrath of Ra does have all the makings of a fun RNG title. Every enemy that you defeat drops a random prize. Depending on the specific enemy, you can gain individual prizes between 2x and 2000x.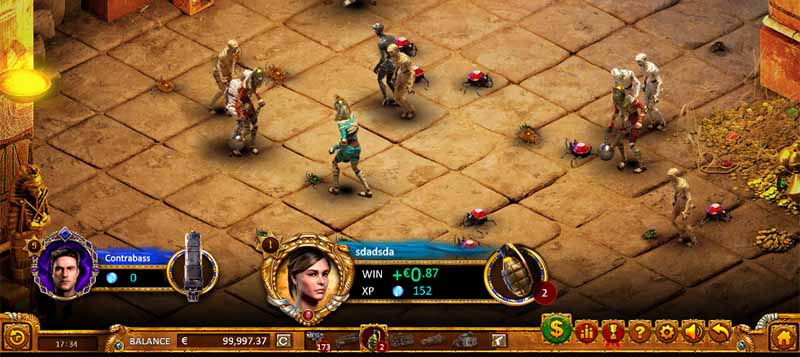 Every time you shoot any enemy, you'll use ammo – which costs anywhere from 1p to 25. Every shot is guaranteed to hit an enemy, and some shots will result in instant kills. All enemies drop coins and experience, but some will drop weapons (which don't use up the ammo you pay for) and artefacts (which earn you more experience).
You can purchase chests for 100x, 200x and 4000x your stake. They are sort of like lootboxes in an online game, as the contain random weapons. These weapons do more damage than the gun you start out with and they can award more generous prizes when you defeat enemies with them.
"Skill-Based" Gaming
The "skill" element is a bit of a misnomer. With every shot guaranteed to hit an enemy, there isn't actually much skill involved. Rather than using the term "skill", it might be more apt to say that Max Quest merges traditional shooter mechanics with online casino RNG gameplay and prizes.
This isn't a bad thing, however. It just means that all players are on even footing. A player who is more skilled than others doesn't have an advantage over anyone else. Everyone still has the same chance of winning while playing this game. Some tactics may help you out, such as knowing which weapons to use to kill enemies fastest, but there isn't any particular way to guarantee a specific outcome or prize.
It's not quite e-sports, and it's not quite a slots game. However, Max Quest does a great job of combing the best bits of each type of game and delivering a fantastic experience.
An Achievement in Online Slots Gaming
It's not often that an online games developer comes along and brings something new to players – but BetSoft really has. Max Quest: Wrath of Ra actually introduces a type of gameplay that we've never seen before in the online slots market, which is not only innovative but endlessly entertaining.
One of the most impressive things about Max Quest is that it manages to seamlessly combine RNG and traditional console gaming without anything seeming too out of place. It just seems natural to spend money on ammo and new weapons, while the enemies drop loot. It's a lot like the gameplay you would encounter in an online shooter – except you can win real prizes.
We can't wait to see what kind of trend Max Quest inspires. This new skill-based slot is sure to change things in the online casino market.