Max Quest: Wrath of Ra is a new title from BetSoft that brings players an entirely new online gaming experience at online casinos. Pair skill-based gameplay with RNG mechanics, Max Quest sends players on an exciting journey deep into Egyptian tombs to defeat evil enemies and recover outstanding treasures.

Read our full review below.
Sorry, not available in "demo mode".
You must be over 21 to click either button.

Max Quest: Wrath of Ra is a novel new casino game from BetSoft that merges skill-based gameplay with slots RNG mechanics. The game brings players an amazing new experience with generous prizes in store. Shoot down enemies in Ancient Egyptian tombs for the chance to earn prizes worth up to 2000x your stake, earn experience and climb the leaderboard.
Max Quest: Wrath of Ra Slot Graphics
Max Quest: Wrath of Ra features impressive 3D graphics that definitely mimic more traditional video games. Of course, it's not going to look like the new Red Dead Redemption, but, it's impressive all the same – especially for a game developed by a slots studio.
How To Play Max Quest: Wrath of Ra Online Slot
The game begins with you picking an avatar – which is really the first thing about this game that sets it apart from other slots. You can pick from 5 heroes, 10 backgrounds and 10 borders. It's not the biggest customization selection but it does make things a bit more interesting.
Then, you'll be able to select a room to enter. Each room can hold up to 6 players, and you have to pick how much you want your bullets to cost which ranges from 1p to 25p. You can then choose the number of bullets that you want to buy-in for and then enter the room.
To win, you have to use your weapons to defeat the various creatures that you'll find in the tombs. Each enemy you defeat will award you with a random prize from x2 to x200 your bullet cost.
There are a couple of other games out there with similar gameplay, such as the bonus round in NextGen's Batman slot.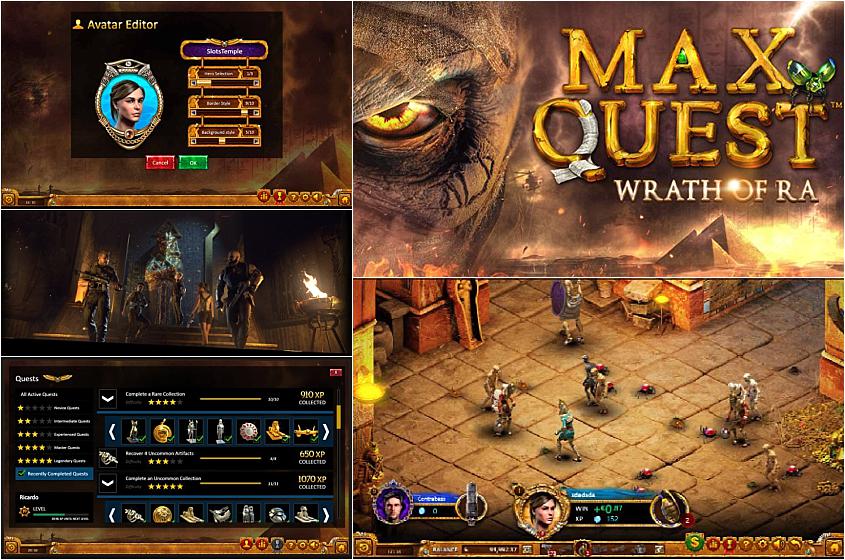 What Is the RTP of Max Quest: Wrath of Ra Slots?
The RTP (return to player) of Max Quest: Wrath of Ra is 96%. This payout percentage lets players know how much money you can win, on average, for every £100 you wager.
How To Win At Max Quest: Wrath of Ra Slots
Just aim at the enemies and fire your weapon. Each shot uses one ammo from your standard weapon (pistol) and is guaranteed to hit an enemy, so you don't have to worry about wasting ammo. Most enemies take more than one shot to hit, but there is a chance for an instant kill.
Throughout the game, you can purchase new weapons by opening chests either 100x, 200x or 4000x your bullet cost. There are four different weapons, and each one is more powerful than the last:
- Shotgun
- Grenade
- Machine Gun
- Laser
- Plasma Rifle
Max Quest: Wrath of Ra Slot Bonus Features
Whenever an enemy is destroyed, there is a chance that it will come back as a Risen Fire enemy. These baddies take more ammo to damage but they offer up prizes between 75x and 2000x your bullet cost.
At the end of every game round, a God may rise, which is a sort of "boss battle". At the end of this battle, the prizes and experience that you earn will be distributed to all of the players in the room.
There is also the chance that enemies will drop weapons. When they do, the ammo that you use doesn't cost any money. So, technically, these are like free spins.
There are some other unique features of Max Quest: Wrath of Ra. You earn experience as you play to climb the leaderboard. At the end of the week, players who place at the top of the leaderboard will receive cash prizes.
You can also embark on quests by collecting different artefacts, or killing certain enemies. Completing the quests will award you
Max Quest: Wrath of Ra Slots On Mobile – Android, iPhones and Tablets
You might think that a game this complex wouldn't be available as a web-based title, but it is. You can play Max Quest: Wrath of Ra using your tablet or smartphone, without having to download any software. This makes the game completely accessible to all players, no matter what operating system you're using.
The controls are a little bit different, since you're using a touch screen rather than a mouse. However, it doesn't take much getting used to.
Max Quest: Wrath of Ra Slot Review
BetSoft has really knocked it out of the park with its new Max Quest: Wrath of Ra online slots game – if we can really call it an online slot. However, we do see the similarities between this style of gameplay and a slot machine, as the outcome of the game is still very much based on luck. The prizes that the enemies award is randomized, as are the weapons you can buy.
Still, it makes for a totally unique online gaming experience that brings something completely new to the online casino market. This is something we've never seen before, and we're not sure how long it will be before we something else like it again. It would be great if BetSoft were to lead the way of a brand-new slots genre, and we can't wait to see if this inspires a trend among slots developers.
Max Quest: Wrath of Ra FAQ
Can I Play Max Quest: Wrath of Ra Slots For Free?
Yes, you can play Max Quest: Wrath of Ra free here at Slots Temple.
Does Max Quest: Wrath of Ra Slot Have Free Spins?
When an enemy drops a weapon, you don't have to pay to use the ammo – which is kind of like a free spin in a slots game.
Can I Win Real Money While Playing Max Quest: Wrath of Ra Slots?
If you want to win real money while playing Max Quest: Wrath of Ra, you'll have to sign up and make a deposit at a BetSoft-powered online casino.
Can I Play Max Quest: Wrath of Ra Slots with No Deposit?
Max Quest: Wrath of Ra is no available as a no deposit slot at real money casinos. However, you can give this game a spin for free here without having to deposit at Slots Temple.
Can I Download Max Quest: Wrath of Ra Slots?
There is no need download Max Quest: Wrath of Ra. The game is fully mobile-optimized so you can play it directly within your web browser on any tablet or smartphone.
* Max Quest: Wrath of Ra trademark / license is owned by Betsoft. This site is not endorsed by Betsoft.