This month, Videoslots announced its new My RTP tool, which offers players a look at their actual RTP of a slot compared to the game's theoretical RTP. We decided to give this tool a try, and came up with some pretty interesting results that we wanted to share with our readers.
What Is RTP?
RTP stands for Return to Player. It lets players know how much money they can expect to be returned to them as prizes for every £100 wagered. This is expressed as a payout percentage. So, if a game has a payout percetange of 97%, the game will pay out £97 for every £100 that players wager.
Now, this number is purely theoretical and it is decided upon by the game's developer and its testers/auditors. As such, players don't actual know what their RTP is in actuality. While it should always even out to the theoretical RTP, many players won't wager £100 total in one session and others won't wager in multiples of £100. Even so, it may not always work out that the £100 on which the theoretical RTP will play out over the course of a single player's session.
This is Where My RTP Comes In
The My RTP tool from Videoslots lets you see what your actual RTP is, based on your real-time gaming experience. Once you have finished playing any game, your data is immediately added to your My RTP dashboard. The data is collected from every game that you play and it looks a little something like this:

Now, you can click on each game for more details. One example that we used was Birds On A Wire from Thunderkick.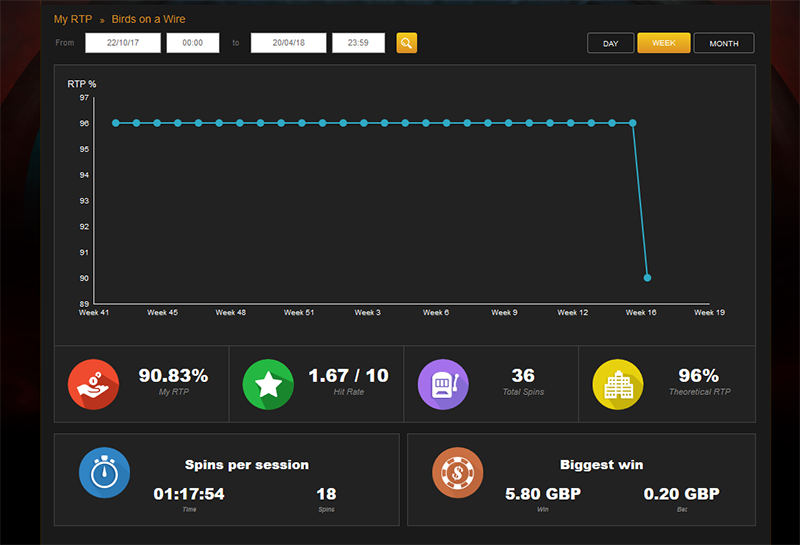 The game's theoretical RTP is 96%, but in our actual gaming experience, the RTP was 90.83%. Overall, we didn't hit very many wins (as noted by the Hit Rate) but we did hit the bonus feature, which boosted the RTP.
One of our more successful experiences was with Esqueleto Explosivo, a game that is known for its high RTP of 96%. We got particularly lucky over the course of 30 spins and ended up with an RTP of 264.05%. This is because we hit plenty of wins, and were able to trigger the bonus game.

It's interesting that there was such a disparity between the actual RTP of two games with the same theoretical RTP. It does go to show you that luck does play a huge factor and you really can't predict how a game is going to pay out.
Perhaps if we had spent more time on Birds on a Wire, the numbers would have evened out. However, the wins weren't frequent enough to keep us playing much longer.



One of our less successful games was Danger: High Voltage. Even though we triggered the bonus round, we didn't have much success, and the base game also left us with a fairly mediocre payout.
How You Can Use My RTP
The My RTP Tool had a great influence on which games we decided to revisit. Since we had such a high RTP on Esqueleto Explosivo, we decided to play it again. Luckily, our experience was still very successful – but our overall RTP dropped to 101%. If you're an avid slots player, this is a great tool for letting you know which games you should keep on rotation.
It also provides a fantastic in-depth look at how you are spending your money. We were surprised to see that a game with a high hit rate like Danger High Voltage (4.63/10) had a lower actual RTP than a game like Birds on a Wire that had a much lower hit rate (1.67/10) or Esqueleto Explosivo (3.56/10). So, even though the game awarded wins more often, it didn't actually provided great value for our money.
Our Verdict
The My RTP Tool from Videoslots is definitely worth checking out. You'll be able to better understand your gaming experience. Even if you're not bothered about all of the math, it is just very interesting to see how the numbers come together!