If you need to move your feet to a disco beat, this incredible six-reel, 4,096-ways-to-win masterpiece from Big Time Gaming will have you spinning and winning almost from the start. Danger High Voltage lets you unlock the action from as little as 0.20 credits a spin, and you will be glad you did! Find out which online casinos are the best locations for playing this great game, and get exclusive bonus codes.

Read our full review below.

Best Danger High Voltage Slot Casinos
Danger High Voltage is a Slot from Big Time Gaming and as such can be found at Casinos that have this software - here are a few of the top casinos that you can play the game at - Casinoland, Genesis Casino, LeoVegas.
Danger High Voltage Bonus Codes
We currently don't have any access to exclusive bonus codes for this game.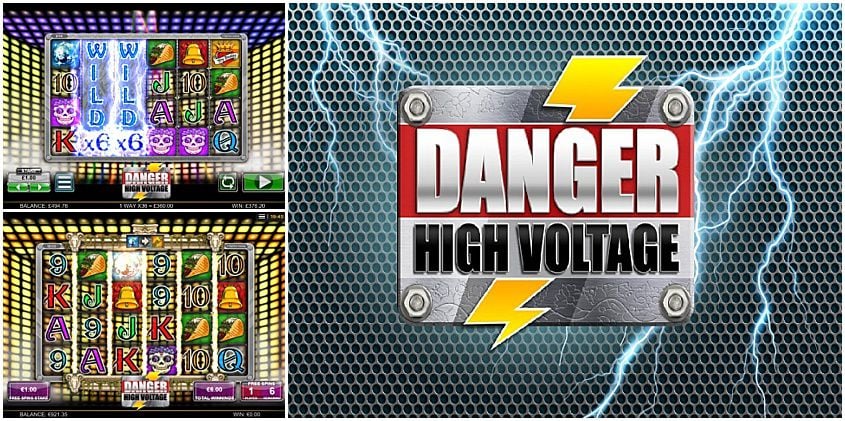 Disco Inferno
On a smoke-filled dancefloor, to the sound of pumping disco tunes as the lasers play, you will spin reels filled with symbols influenced by the Mexican Day of the Dead. If you are struggling to find the connection between sugar skulls and disco beats, just relax and go with the flow. The highest paying symbol is the heart, but your reward depends entirely on what you stake - the bigger the bet, the bigger the win. The basic paytable only shows the wins for the lowest stake of 0.20 credits, but this game is all about the bonus features and some wild wilds.
How to Play Danger High Voltage
Big Time Gaming's Danger High Voltage slot is easy to play and you'll quickly get sucked in to the exciting theme. Firstly, choose anywhere from 20p to £40 as your total stake. This is a great range for both high roller players and those on more modest budgets. 20p wagers mean that penny slots players can comfortably spin the reels within their bankrolls while a £40 maximum bet gives players with bigger budgets more bang for their buck. No matter what your bet size, you'll still trigger all 4096 ways to win.
You can also choose to set up the autoplay. You can choose almost anywhere from 5 spins to 100 spins. You must set a loss limit which will stop the autoplay when you've lost a certain amount of money - but, you can set it to "unlimited". There is also the option to set a single win limit, which will stop the game when you've hit a certain prize.
Then, all you have to do is enjoy! Danger High Voltage is a fun and engaging online slot that is sure to provide you with plenty of entertainment.
What is the RTP of Danger High Voltage Slot?
Over a long period of time the average payout of Danger High Voltage is 95.67% - this means that if you wager 100 you will get back 95.67 on average. To get a feel of how this payout is achieved try the game in demo mode here and you'll get a feel for the volatility etc.
Wild ride
Wild fire and wild electricity symbols are full reel wilds on reels two and five only that substitute for any other symbol except the scatter. Wild electricity is the one to land with its 6x multiplier, but both features ensure a great bonus payout.
High Voltage and the Gates of Hell
We are not talking deadly electrified gates here but the bonus games that you will unleash when you land three or more Heart's Desire symbols.
Choose to enter the Gates of Hell and seven free spins will be yours. As a bonus, one of the game symbols becomes a sticky wild for the duration of the bonus feature and will substitute for every other symbol to create big winning combinations. Land four sticky wilds on a single reel and you will spin up three more free games.
Opt for the High Voltage bonus and you will receive a whopping 15 free spins plus the High Voltage wild on reels two and five. All your free spin wins will be multiplied by the highlighted figures, which range from 11x to a massive 66x multiplier. Land three or more scatter symbols during the High Voltage bonus and you will unleash another 15 free spins.
Danger High Voltage Tips
If you're looking for a winning online gaming experience while playing Big Time Gaming's Danger High Voltage slot, there are some strategies that you can employ. Firstly, it is important to decide on a bankroll that is suitable to your overall budget. Since bet sizes range from 20p to just £40, you should be able to get plenty of spins within your bankroll. Setting a budget is crucial, as you'll always walk away a winner if you don't lose more than you can afford to.
Then, you might want to try a betting strategy, which dictates how much you should wager based on whether your last spin was a win or a loss. This helps you to take advantage of winning and losing streaks, which can be particularly useful in luck-based games like slots. The Martingale System is the best option, and it requires you to increase your wager after every loss. So, if your bet is £1, you would double it to £2 after your first loss and double that again to £4 on your second loss - and so on. The idea is that you will eventually win, which means that you'll recoup those losses along with some profit.
Danger High Voltage on Mobile - Android and iPhone App
Danger High Voltage by Big Time Gaming is fully optimised for all your mobile and tablet devices running iOS and Android. If you need some bonus spin action on the go, this could be the slot for you. As a browser-based, the game does not require you to download any software, so you can save space on your device.
The graphics on Danger High Voltage mobile are exactly the same as they are on the desktop version of the game. As such, you won't miss out on any gameplay features. The game is just as bright and vibrant as it is if you're playing from your laptop or PC, and all of the same bonus features are present.
Danger High Voltage - 100 Spin Experience
If you're stuck for time or simply aren't in a location where you can play free slots online, we're here to give you a rundown that will make you feel just like you've played the game for yourself. Our 100 Spin Experience sections gives you an in-depth look at the gameplay of Danger High Voltage, which will allow you to decide whether or not you should give this game a spin.
Firslty, we set our stake to £4, which we think is a fair amount that should appeal to both high rollers and players with more modest budget - but you can wager anywhere from 20p to £40. This single wager triggers all 4096 potential ways to win, which provides you with more value for your money over time. We also used the autoplay feature for 100 spins and set the loss limit to Unlimited.
Over the course of 100 spins, we were able to trigger the free spins feature once, and made an impressive profit of 30x our total stake. Throughout the base game, they were plenty of spins where we triggered wild reels and the maximum multiplier that we claimed was worth 6x.
There were plenty of moments where nothing was really happening, which created a lull in the action. However, we did trigger plenty of prizes. This is likely due to the fact that many of the symbols pay out for 2-of-a-kind combinations which makes for more frequent wins.
If you're looking for something a little bit different, then Danger High Voltage is the online slot for you. It is certainly the opposite of classic slot machines, and is idea for players with more modern gaming tastes.
Danger High Voltage Slot Review Verdict
Although the theme seems all over the place, there is no denying that the soundtrack is great and the graphics are attractive enough to hold your interest.; however, where Danger High Voltage really scores is in the bonus gameplay, with wilds and free spins enough to satisfy even the most experienced player. This is a medium to high variance slot that really rewards when you land those Heart's Desire scatter symbols and make the most of the wilds, free spins and multipliers you can spin up. All bonus rewards are paid at the original stake, so this really favours the high rollers out there.
With its unique theme and vibrant graphics, Danger High Voltage provides players with an exciting online gaming experience. Players will be thrilled with every spin of the reels, as there are plenty of wins payouts to be earned. The game's bonus features are innovative without being overly complex so you'll definitely feel engaged with the gameplay. Since you can take it with you on the go, Danger High Voltage is a fun sot that you can enjoy from virtually anywhere using your tablet or smartphone.
Love Danger High Voltage? Why Not Try...
Sure, Danger High Voltage is a fun online slot, but there will come a time that you'll want to give something a little different a spin. The major draw of this online slot is generous number of paylines and the addition of wild multipliers, so here are some of our recommendations for slots similar to Danger High Voltage that you might enjoy.
These are great games that have all of the same appeal as Danger High Voltage from Big Time Gaming. Give any of these online slots a spin for an exciting online gaming experience with an impressive number of paylines and generous winning potential.
About Big Time Gaming
Big Time Gaming is certainly an up-and-comer in the online gaming market. The company hasn't been around as long as some of the bigger players like Microgaming and NetEnt but it is certainly making a name for itself by creating some of the most innovative and exciting new releases that can be enjoyed by players around the world.
It should come as no surprise Big Time Gaming is able to such impressive titles, as the company consists of professionals who have been working with prestigious gaming operators for years. CEO Nik Robinson and CTO Huw McIntosh both worked at New Tech Media and Openbet while Creative Director Ian Schmidt worked on several games for Rock Star. So, they have certainly put this expertise to use at Big Time Gaming, where they develop groundbreaking online slots.
* Danger High Voltage trademark / license is owned by Big Time Gaming. This site is not endorsed by Big Time Gaming.