Here at Slots Temple there are plenty of slots games that will delight Wizard of Oz fans old and new. Try our free Oz-themed games on your mobile, tablet or desktop PC and play instantly today, with no registration or deposit required! What are you waiting for follow that Yellow Brick Road!
Wizard Oz Slots
The Wizard of Oz slots is a popular five-reel, 30-line game from WMS Gaming, a developer force that has been in the slots market since 1994. The first game from WMS was the fun Reel 'em In, and since then, they have developed many popular titles with themes from famous licensed brands. In the Wizard of Oz, players get to experience the magical place created by L. Frank Baum and relive the joy of the 1939 movie starring Judy Garland as the sweet Dorothy.
Wizard Of Oz Wicked Riches Slots (WMS Gaming)
Part of the famous Oz series of slots from WMS Gaming, the Wizard of Oz Wicked Riches lets players explore the story of the Wicked Witch of the West. This daring slot has five reels, 30 paylines and a dark, atmospheric theme that really invokes the feel of the witch, as popularized in the 1939 movie by actress Margaret Hamilton. All the symbols here connect to the witch's Oz storyline and include the witch herself, her evil flying monkeys and the tornado that swept Dorothy up.
Wizard Of Oz Ruby Slippers Slots (WMS Gaming)
The Wizard of Oz Ruby Slippers comes to players from WMS Gaming as part of their tested Oz slate. Rather than focus on a living character from the film, this game makes Dorothy's ruby slippers its star. Players will find five reels with 30 paylines and a lot of sweet symbols, such as the lollops, the Good Witch Glenda and even some tasty apples. There are also stills that have been taken from the movie itself and many references to classic aspects of the Oz tale. Fans of both the film and the original novel will find themselves right at home in this magical WMS entry.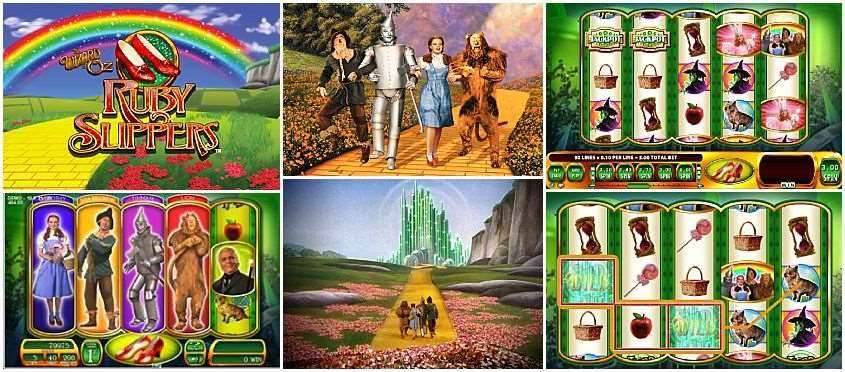 The Winnings Of Oz Slots (Ash Gaming)
The three-dimensional Winnings of Oz comes from Ash Gaming, an established iGaming developer that became part of powerhouse Playtech in 2011. This company focuses on interactive, entertaining games that can be played across multiple platforms, and the Winnings of Oz certainly fits that bill. In this game, players are taken immediately into the wonderful world created by L. Frank Baum and get to meet all of the famous characters from the 1939 movie.
World Of Oz Slots (Rival)
Become part of Oz for a spell by playing the World of Oz by Rival. Started in 2006, Rival has since emerged as an industry leader in the world of slots development and is also known for its story-driven iSlots series. In the World of Oz slots, players meet up with Dorothy, her little dog Toto and the Tin Man, Scarecrow and Cowardly Lion to accomplish events from the movie itself, such as finding Glenda The Good Witch. This game is a classic 5×3 grid but has a hefty 50 paylines and many bonus features.
Magic Of Oz Slots (Games OS)
An unusual entry from Games OS, the Magic of Oz is all about recreating some magic. With six irregular reels and 80 paylines, the Magic of Oz represents the innovation and excitement Games OS is known for in the slots gaming development industry. Players are treated to a fast-paced game that is set against the famous Yellow Brick Road and other Oz-specific symbols. With wilds, two bonus rounds and prize multipliers, the Magic of Oz certainly casts its own spell.
Yellow Brick Reels Slots (Arrow's Edge)
Yellow Brick Reels comes to players from developer Arrow's Edge, which was established in 2014 to improve the experience of mobile and laptop online slots players. Since then, Arrow's Edge has released more than 20 games for both the PC and mobile markets, and the Oz-themed Yellow Brick Reels is a standout in the pack. This game sports a charming style that invokes the feel of the original Wizard of Oz children's book and offers 25 paylines with five reels.
The Wizard Of Oz: Not In Kansas Anymore Slots (WMS)
The Oz games from WMS proved to be so popular that the developer released follow-ups, including the innovative The Wizard of Oz: We're Not in Kansas Anymore. This 3D, touch-screen game is a departure from the traditional reel/payline format, as it is a symbol pay title. Players are rewarded with scenes and sounds straight out of the famous film itself, and there are an incredible 243 ways to win. This slots game is perfect for anyone who enjoyed the original Wizard of Oz film and for those looking for a different kind of slots playing experience.
Wizard Of Odds Slots
The Wizard of Odds comes to players from Mazooma, which was founded in 1997 and has since become known for the high-quality playing experience its games deliver. This developer is also famous for its introduction of the "Community Concept," which allowed up to 40 players to take part in lucrative jackpots and bonus rounds. In the Wizard of Odds, magic is the overall theme, and the whimsical symbols include parts of spells and scepters for power. The game offers 20 paylines and five reels with a mixture of bonuses and features that tie right into the magical main theme.
The Cash Wizard (Bally)
A truly fun entry from Bally, the 30-payline, five-reel Cash Wizard is all about a young wizard and the magical life he's living. Bally, which traces its roots in the video slots market all the way back to 1968, is famous for its innovation and high-quality games, so it's no surprise that the Cash Wizard offers a great gaming experience that is seamless across multiple platforms. Players will find magical symbols such as potion bottles alongside the traditional high-value playing cards, and there is also a progressive jackpot and five bonus games.