Playtech have been a busy company of late - we've been treated to a number of incredible games over the last few months and Robocop is one we've been looking forward to ever since we heard whispers about it back in February at ICE in London and it's not disappointed us - for starters it has 8 (count 'em, 8!) bonus features, quality graphics from the original film, nice game-play and we love the last reel anticipation when you may or may not be about the get into a bonus round!

Read our full review below.
Sorry, not available in "demo mode".
You must be over 21 to click either button.

Introduction
"I need your clothes, your boots and your motorcycle!" that's Robocop right? Silly us, we're mixing up our late 80s/early 90s cyborg-based films! Seriously through, if you are of a certain age Robocop, the 1987 Paul Verhoeven film, will have a special place in your heart - we know it does in ours...
The original film centres around Murphy, a cop that gets murder by a vicious street gang, but is subsequently brought back to life by the Omni Consumer Products corporation as a superhuman cyborg known as Robocop... All jolly good fun. So what of the game? Luckily Playtech have secured the full image rights to the film, meaning they can using all the assets (we hate it when it's a half-hearted adaptation - we're looking at you Microgaming / Game of Thrones). #
The sound is excellent and faithful to the film, which originally won an Oscar for best sound editing in 1988 and all the main character feature including the menacing ED209 who pops up in one of the eight (yes, eight) bonus rounds. You better hope you play the slot game correctly as you don't want to find yourself on the wrong side of ED209 with 20 seconds to comply!
The Game
It's a 25 payline game that takes a fairly conventional format - the symbols you want to be looking out for are the gold Robocop police badge - get one of those on reels 1, 3 and 5 and you'll trigger a bonus, Wild symbold - substitute for everything except the aforementioned police badge symbols and if you get 5 of these on a payline you'll win an incredible x2,500 and lastly the the Murphy/Robocop symbol - get x5 of these on a payline and you'll win a whopping x1,000. In addition to the traditional method of getting into a bonus game, Robocop also has x4 'Random Robotized Features' which can be triggered randomly on any single spin in the main game.
Shootout Spin: Wild symbols dispersed on several random positions.
Robot Attack Spin: ED209 symbol added to the reels (symbol in Wild).
Line-up Spin: Each winning line is enhanced with 2 different multipliers on that win.
OCP Bonus: Pick bonus that takes place within the OCP (Omni Consumer Products) offices.
The Bonus round (triggered by the Robocop police badge symbols) as opposed to the random kind mentioned above is very interesting in that each time you hit the feature you can choose between another x4 bonus features:
Robot Attach Free Games: 5 Free Spins with ED-209 Big Wild symbol added to the reels.
OCP Mega Bonus: Pick Bonus round with x5 multiplier on all wins.
Shootout Free Games: 10 Free Spins with random wilds thrown into the mix (added across the reels in target format).
Line Up Free Games: 15 Free Spins with x2 multiplier on each win.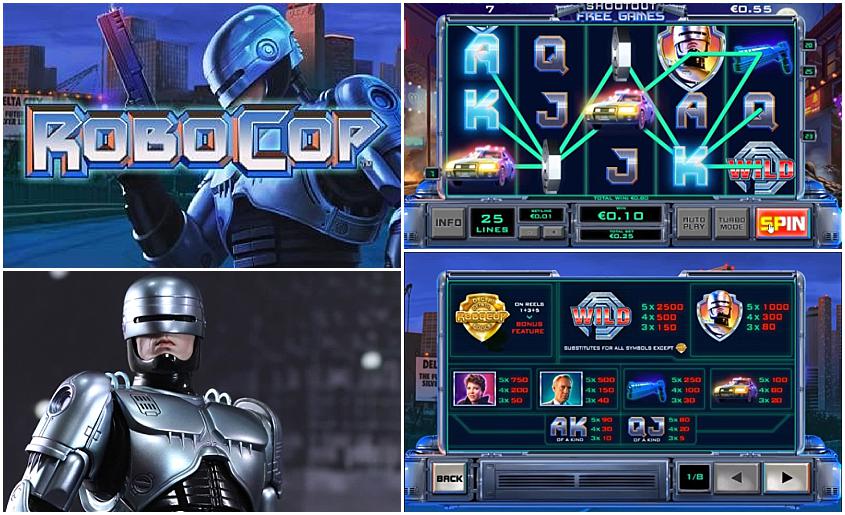 The Verdict
We were not disappointed with Robocop at all - this is no throw-away game where the developers have decided that having a brand to work with is enough and they don't put in any effort with the game... Playtech have created a good game with IP that lends itself well to a slot game. 8 bonus games says a lot about the effort that's gone into this one - it's definitely working in our favour that the Marvel content was taken away from Playtech by Disney because they have really upped their game with the new games since then.
* Robocop trademark / license is owned by Playtech. This site is not endorsed by Playtech.