Can you feel the magic in the air? With tumbling runes and an otherworldly soundtrack, Sacred Stones from Playtech brings something mystical to the jewel slots genre. This five-reel, 20-payline slot features stacking wilds, collapsing reels and the chance to play for an infinite number of free spins. Land five or more wins in a row and you will hit the free spins feature, which can trigger again and again if the runes fall for you. With the possibility of mega payouts, simple yet involving gameplay and beguiling graphics, this Starburst clone has a high RTP and delivers plenty of wins with a wide range of staking options. Stake between 20p and £20 to try to win unlimited free spins in this immersive slot. If you love the mysticism of ancient cultures and believe you can read your future in the runes, Sacred Stones will be one to treasure.

Read our full review below.

Sacred Stones graphics
Playtech has kept things simple in Sacred Stones, but the game still packs quite a visual punch. Set against a set of monoliths not unlike Stonehenge or the mysterious Megaliths of Carnac in France, the reels spin under a dark and starlit sky.
The rune stones seem to be hewn from slabs of rock and appear in eight different colours and shapes, each bearing a symbol that has some resemblance to the Viking runic alphabet. This all contributes to the mysterious atmosphere of the game.
This sense of mysticism and magic is reinforced by the ambient soundtrack that tips over into Celtic tunes whenever you land a big payout. One thing we really like is the solid thud as the stones fall into place, which really adds to the authenticity of the game.
How to play Sacred Stones
Sacred Stones is part of that much-loved genre, the jewel slot. Taking its inspiration from games such as Starburst, this slot is all about lining up matching rune stones across one of the 20 paylines to earn multiplier wins of up to 50x your line bet.
Playtech has delivered an excellent user interface that makes it a snap to select your options. The 20 paylines are fixed but you can choose your line bets from 0.01 to 1.00 coins, meaning a stake of between 20p and £20 a spin. When playing slots with multiplier prizes, the higher the stake, the higher the potential reward. The top prize in base gameplay is £1,000. The exciting thing about Sacred Stones is that, as with Starburst, you can win both ways to increase the chances of a large reward.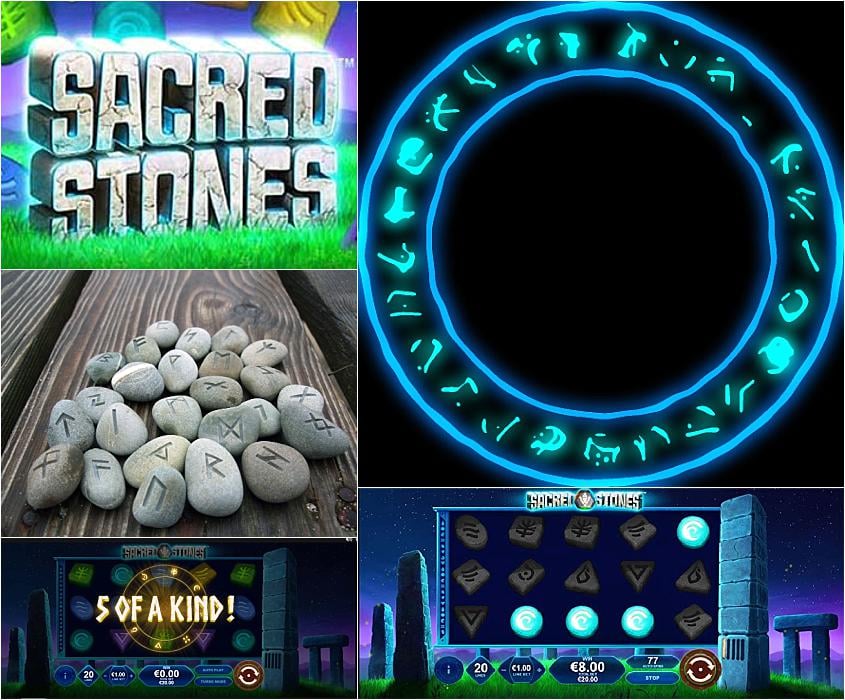 Sacred Stones payout ratio and volatility
Sacred Stones is a medium volatility game with a hypothetical return to player (RTP) of 96.15 per cent. This means that the slot pays out an average of £96.15 for every £100 wagered. Like all slots developers, Playtech uses random number generators (RNGs) to make sure its games are fair; however, your personal RTP can be very different to that promised by the developer.
Volatility in slots is all about balancing risk and reward. A high volatility slot such as Captains Treasure requires nerves of steel and a big bankroll, as you are going to watch it fall like a stone before you hit the big win. If you prefer a dopamine rush to an adrenalin one, low volatility slots pay smaller rewards but deliver them more often. After playing Sacred Stones and Captains Treasure, you might walk away with a similar payout achieved by different means.
Sacred Stones actually edges towards being a medium volatility slot, which means you have the potential to enjoy the best of both worlds - a huge payout thanks to the high number of free spins available and frequent wins during base gameplay.
How to win at Sacred Stones
To hit winning combinations in Sacred Stones you need to land three or more matching symbols on the same payline. You can choose to manually hit the play button or set your options for autospins or even turbo spins if you want to get the maximum number of spins in the shortest amount of time.
Sacred Stones features cascading reels. If you are new to slots, you may not have come across this feature before; basically, the individual symbols fall into a 5x3 grid rather than spinning on reels. When a winning combination is formed, these symbols disappear and are replaced by a new set of rune stones until no more winning combinations can be formed.
There is also a wild symbol in the form of a multi-faceted stone that appears on the middle three reels and completes winning combinations. This is often crucial when you are trying to land the five or more wins in a row that trigger the only bonus feature here, the free spins. This is where the really big payouts are to be earned. As the feature can trigger indefinitely, there is no knowing what life-changing sum you might walk away with.
It is a simple bonus and one that could prove incredibly rewarding; however, be aware that this is a medium volatility game and you won't hit the bonus feature that often.
Sacred Stones bonus features
This is not a slot that is loaded with bonus action and you don't move away from the main gameplay screen for a pick and win or wheel of fortune-type feature. This slot is solely about the casting of the runes and you will need to gather at least five wins in a row to trigger the free spins bonus. If you lose track, look at the megalith to the right-hand side of the screen and you will see an illuminated strip for each win.
The good news is that every wave of runes has the ability to trigger the free spins feature as long as you keep winning. Your free spins will be awarded depending on the number of games you win in a row, starting with five free games for five wins, six wins earn 10 free games, and seven wins earns 15. Carry on lighting up the pillar to receive 20 free games for eight wins and 25 free games for nine wins in a row. The ultimate prize is 50 free games for winning 10 games in succession, and the free games can trigger indefinitely if you record five or more wins in a row.
Sacred Stones top win
The top win available in base gameplay is £1,000, which you will earn when five of the crimson rectangular stones with an 'x' in the centre land on a payline. Due to the free spins bonus and the fact that you can - theoretically, at least - keep casting the runes forever, it is impossible to say what sum you might walk away with after winning 50+ free spins.
Sacred Stones at online casinos
We always recommend that you play for free to really get to grips with a game, so check out the free play review to see how the team here at Slots Temple got on when we took Sacred Stones for a 150-spin experience. If you want to play this Playtech slot for real money, check our reviews for the best online casinos that offer slots from this premier developer.
Most online casinos offer a welcome bonus when you sign up for an account, which usually takes the form of a match deposit bonus cash and/or free spins. Although free spins are generally only worth between 10p to 20p, they are a good way to get to enjoy playing for real cash without having to dip into your own money.
Whether you play with free spins or bonus cash, you will be able to play for real money winnings. Choose to withdraw in cash and your winnings will usually be subjected to a withdrawal limit. This means that you may not be able to withdraw all your win, particularly if it is a life-changing amount.
If your winnings are credited to your bonus balance, you will need to meet any wagering requirements to withdraw them; for example, if the wagering requirements are 20x and you win £10, you will need to wager £200 before you can withdraw that first £10 win. Always check the terms and conditions so that you know exactly what to expect when playing Sacred Stones for real money at an online casino.
Sacred Slots on mobile
Playtech slots are optimised for HTML5, which means they load in seconds for hours of playing pleasure. These slots play seamlessly on mobile with no clunky downloads, whether you are using iOS or Android. This means you get more storage and longer battery life to enjoy all your favourites on mobile and tablet.
Sacred slots free play review
At Slots Temple we love free play slots and we go out of our way to make sure you get the best playing experience. We review each slot and play through the 150-spin experience so that you get a better picture of what to expect.
Sacred Stones is instantly appealing and easy to get to grips with. The mystic and magical mood is enhanced by the graphics and the ambient soundtrack, with each stone thudding into place. This slot relies, like a lot of jewel slots, on the cascading reels feature where gems - or in this case rune stones - tumble into place rather than spinning on the traditional reel. Any winning symbols then explode to be replaced by more symbols. The aim here is to score at least five free spins in a row and trigger the free spins feature.
In our 150-spin experience we used the turbo feature, hitting the spacebar to play through in a fraction of the time it would normally take. We scored frequent base gameplay wins of three to five symbols on a line, aided by the wild symbol on reels two, three and four, and waited time after time to see whether we would hit five wins in a row. The bonus was incredibly elusive, in keeping with the medium volatility of this slot; however, we scored 15 free games and a win of £1,014 when it hit.
Playtech is generous with the starting credits here, providing 1,000 of them, so we came out ahead with a final payout of £1,297. Wins land on average every five spins and we played at the highest stake of £20 a spin, which won't break the bank for the more casual gamer and is attractive enough to a high roller thanks to the volatility and RTP on offer here - and, of course, the potential for infinite free spins.
If you love the jewel slots theme, you will enjoy casting the runes in this simple but by no means unentertaining slot.
If you enjoy Sacred Stones, you'll love…
There are plenty of jewel-themed slots available - so many that there is a whole selection of them at Slots Temple. Just search for 'jewels' under the themes. Here is our pick of the best of the rest:
Starburst
The ultimate jewel game, Starburst by NetEnt is often a free spin slot of choice at online casinos. Beautiful to look at and easy to play, this 10-payline, pay-both-ways slot is not to be missed.
Da Vinci Diamonds
This IGT slot brings together dazzling jewels and Da Vinci masterpieces with the tumbling reels feature. Hit the free spin bonus for big payouts.
Lost Relics
The Lost Relics slot from NetEnt features cluster pays and a 6,000x multiplier win. Trigger free spins and wilds for an exhilarating gaming experience.
About Playtech, maker of Sacred Stones
Playtech is in the top rank of slots developers, with a full range of games including licensed slots that tie into the Marvel universe. Many Playtech slots play free, so you can test them out before playing for real money at the online casino of your choice. Featuring a huge range of themes and a common feature set including the well-thought-through user control panel, Playtech games are always worth looking out for.
Sacred Stones: to play or not to play?
If you love cascading reel slots, you will love the opportunity to play for infinite free spins in Sacred Stones. If magic and mysticism rock your world, cast the runes and find your fortune.
* Sacred Stones trademark / license is owned by Playtech. This site is not endorsed by Playtech.