Visitors must verify their age before playing free slots
Over 100,000 users successfully verified
Your data will not be saved
We'll never contact you
We'll never share your data
Quick, easy and I was playing free slots in under a minute. - Chris H




Write a review




Disclaimer: Miyuki and Friends trademark / license is owned by High 5. This site is not endorsed by High 5.
* Although we try and match games with Casinos that have them, we advise that you double-check the slot content on the casino before making a deposit.

Slot Data
Games by Same Maker


User Reviews
Overall score:

0

out of 5 stars
















There are no reviews for this game
Be the first to write a review

Slot Data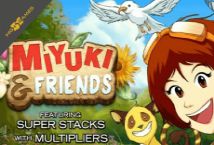 What's your rating for this game?
Submitted
Thanks for your feedback