Spamalot is a powered progressive jackpot slot from Playtech. Featuring 20 paylines and five reels, Spamalot is playable on all devices and offers four bonus features and ten free spins which can be easily won. Enjoy a second screen bonus feature based on the legend of King Arthur and splendid themes with this exciting game.

Read our full review below.

Spamalot Review
Spamalot is a great game from Playtech, and it's available now to play on our site.
Based on the famous Monty Python property, this game is so packed with features and gameplay that it is sure to have mass appeal with all fans of free slots games, even with people who aren't big on Monty Python itself.
Like many of the slots on this site, Spamalot is available to play on either browsers or mobile and tablet devices. This means that it is equally suited to gaming at home or on the go, with no noticeable compromise in quality, functionality or appearance.
Layout
This game, like most contemporary slots, is made up of five reels with three rows each, laid out in the standard 5x3 configuration. A total of 20 paylines can be selected in series, and there is a variable line bet value. In the main game, a wide range of prizes is on offer to lucky players who manage to find instances of two, three, four and five of a kind adjacent matching symbols, oriented from left to right on an active payline.
In total there are 16 symbols. Ten of these are regular sorts, with the remaining six awarding wild, scatter and bonus round functionality.
The higher value prize symbols are made up of the Spamalot cast of characters, with the lower value ones represented by classic playing card derived symbols like 'A', 'Q' and 'J'.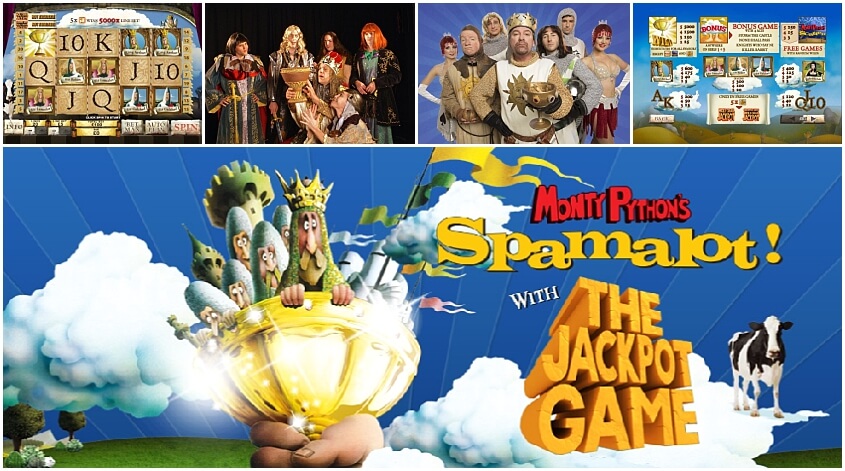 Prize Table
The most valuable regular symbol is King Arthur himself, which is worth a large top prize of up to 600 coins for five of a kind. Next up is the lady of the lake, which is worth a possible maximum prize of 400 coins.
Way down at the other end, however, are the 'Q', 'J' and '10' symbols. These are the least valuable in the entire game, and award the same range of small prizes, up to a potential total of 120 coins.
Special
First among the special features is the wild symbol. This is found on all reels, acting as a substitute for any regular symbol, as well as awarding large prizes in instances of multiple wilds. The maximum wild win is a massive 5000 for finding five!
Next up is the free spins symbol. This also awards prizes, up to maximum of 250 coins. It also unlocks the free spins bonus round. Players will be given ten spins, played with the initial lines and bet, which cannot be retriggered.
Though the bonus round symbol will not appear during free spins, additional wilds and jackpot game icons will appear on the reels. The bonus symbol is where this game truly comes alive. Appearing anywhere on any reels, this will trigger the first of four bonus rounds, which are played sequentially each time one is unlocked.
The aim of these games varies greatly. In one bonus game, Storm the Castle, a strategic jackpot can be played for, if you concentrate on avoiding the cows.
Other examples of the things you'll see in the bonus rounds include mystery jackpot games and so much more.
* Spamalot trademark / license is owned by Playtech. This site is not endorsed by Playtech.