Tiki Island is a fun new tropical slot game from Gamesys, complete with exotic flowers, bright tropical fish and even funky monkeys! With a huge jackpot and cool bonus games, get ready for hours of fun in the sun. Plus you can play up to 20 lines at a time! We have a full review and a list of where to get the best Tiki Island Bonuses and Bonus Codes below.

Read our full review below.

What is the RTP on Tiki Island Slot?
The RTP (or return to player) is the amount a game pays out in relation to the wagering on the game. In the case of Tiki Island the RTP is 96.29% which means that on average if you wager £100 on the slot you will get back £96.29.
Tiki Island Review
Pack your swimsuit and get ready for a tropical island break. You're off to Tiki Island, a free slots game where you'll find gorgeous, brightly-colored tropical fish, fragrant exotic flowers, funky monkeys and spooky island-masked faces waiting to help you win.
Everything is brighter in the sun and Tiki Island is no exception. Lay down your beach towel, and rub on some sunscreen. You'll need it because the action is hot! Enjoy the summer fun in the sun, with a huge jackpot and the tricky Tiki's Nuts and poppin' Puffer Fish bonus games, as well as scatters and wilds to spice up the action.
Relaxing on the beach, swimming in the sea or drinking cocktails by the pool, you can play Tiki Island from Gamesys on your mobile and tablet almost anywhere. Now that's what I call a holiday!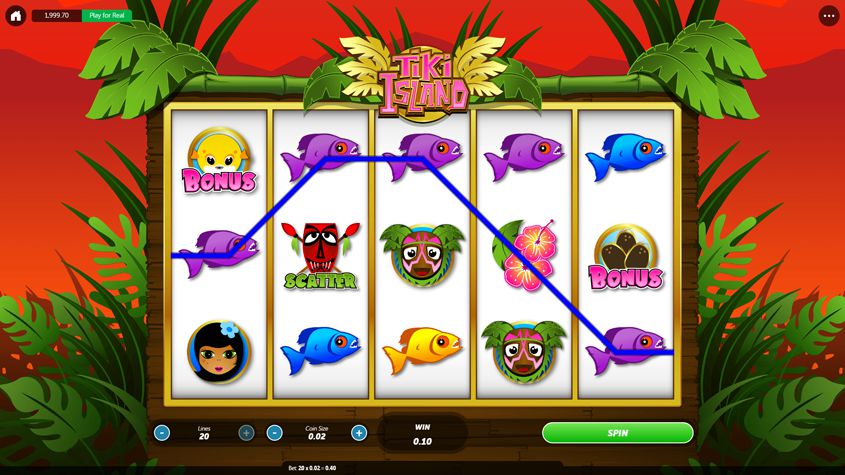 A video of Tiki Island with Puffer Fish Bonus Round
How to Play Tiki Island Slot
Make Tiki Island your own . Decide how many paylines you'd like to wager on (anywhere from 1 to 20) and choose your coin size. It's important to remember that all wins are paid out as a multiple of your wager, so the bigger your bet, the bigger your win. There's an Auto play feature that lets you set your spins automatically, so you can sit back and relax.
Tiki Island Big Wins
You're in for some amazing cash prizes when you spin the reels on the Tiki Island slot from GameSys. The title provides players with the opportunity to cash in on some impressive payouts, as the Tiki Island symbol awards you with a generous 10000x top prize when five matching symbols land on the same payline.
You can also expect to cash in on prizes more frequently than you would in similar games because prizes are paid out for 2-of-a-kind combinations. In most online slots, prizes only start paying out at 3-of-a-kind combos so you're in for a high volatility gaming experience.
Tiki Island Tips
While there is no sure-fire way to guarantee a win while playing online slots, there are some strategies that you can employ to ensure a successful outcome and enjoyable gaming experience. Here, we'll give you a couple of tips for playing Tiki Island slots that should help you walk away feeling like a winner. Firstly, when you play any online casino game, you should decide how much money you can afford to spend.
By setting a strict bankroll, you ensure that this is the amount of money that you're going to wager and that you won't spend more than that if you lose it. This will help to inform you about how much you can afford to wager per spin.
So, if you're thinking of spending £50, and you want play for 100 spins, then your budget per round is 50p. Sticking to this budget will help to ensure that you'll never lose more than you can afford to, so you'll always have a positive gaming experience. Next, if your budget allows, consider using a betting strategy, which guides you on how you should wager based on whether you win or lose. The most popular betting strategy is the Martingale System, whereby you increase your wager every time you lose a round. So, if you wager £1 and lose the round, then increase it to £2. If you lose again, up your bet to £4.
The idea is that, when you do win, you'll be able to recoup your losses plus a little bit of profit. This strategy is commonly use in table games like roulette and craps but it can also be useful when playing slots.
Tiki Island Slot Free Spins and Bonuses
With so many ways to win, including not one but two bonus games, Tiki Island will have you on the edge of your sun lounger. Get three scatter symbols and you win five times your stake. Spin up four scatters and it's up to 25 times your stake.
If the Island gods are with you and five scatter symbols appear, you'll be 100 times blessed on the amount you bet. Go for gold when you hunt the Puffer Fish - three in a row and you'll be swimming under the waves on a new screen. Pop a prize-filled Puffer and watch the coins burst out and into your prize bucket, multiplying the amount of the coin size you picked.
You'll go nuts when you find the Tiki's Nuts bonus - get three juicy coconuts on a line and head off to the coconut shy. Crack the nuts to crack open the coin bonus! The big win symbol is the vibrant pink Tiki Island symbol. Line them up right and you can win a massive 10,000 times the amount you bet. The Tikis are also a wild, so you'll want them to pop up anytime during the game.
Tiki Island Mobile - Play on Android, iPhone and App
You can play Tiki Island on every platform - use your Windows or Mac desktop, your Android or iPhone, iPad and more. All of our 2,000 free slots games are available in high quality format, on whatever devices you choose and from virtually anywhere. What's great about this is that you don't have to download any software or worry about the game being compatible with iOS or Android devices.
You can also rely on Tiki Island to deliver the same great gaming experience no matter how you choose to play. Whether you're spinning the reels on your laptop or smartphone, you'll still see the same impressive graphics and have access to the same fast-paced gameplay.
Tiki Island Slot - The 100 Spin Experience
If you don't have the time to Tiki Island from Gamesys a spin to try it out, we've got you covered. Our 100 Spin Experience takes an in-depth look at the gameplay of this online slot, to give you an idea of what it would be like if you were giving it a spin for yourself.
The first thing to note is that the game takes some time to load. You may end up waiting for up 30 seconds for the game to load, but this doesn't mean that the actual game will lag. In fact, Tiki Island features smooth gameplay so you can look forward to a fast-paced experience. We wagered £1 per spin over the course of 100 spins, which we felt was a reasonable budget for a wide variety of players.
As you would expect from a GameSys title, Tiki Island featured a very cute theme with vibrant graphics and were we captivated right away. The slot has the feel of a classic game but is equipped with enough bonus to features to keep us entertained. Over the course of our spins, we were able to trigger the Tiki Coconut bonus, where we cracked coconuts to receive cash prizes.
Sadly, we weren't able to trigger the free spins or the Puffer Fish bonus - both of which look quite fun. Overall, we walked away with a small profit and were pleased with the experience. However, wins didn't come as frequently as we hoped. With an RTP of 96.29%, Tiki Island is a higher volatility game but our payouts weren't incredibly frequently. So, you may notice a bit of a lull in the gameplay over the course of a couple of hundred spins. Still, by the end of our experience, we were still quite happy to have raked in a profit worth 25x our initial stake.
Where To Play Tiki Island Slot
Our recommended location to play Tiki Island is Virgin Casino. The site offers all new players a generous welcome bonus that matches their first deposit by 100% up to £200. After you claim this bonus, there are plenty more on offer as you can take part in prize draws, tournaments and free spins giveaways every day of the week. It is certainly one of the best online gaming sites out there, and you'll be able to find hundreds of amazing GameSys-powered slots. What are you waiting for? Grab your passport and come on over to Tiki Island where the water is always warm and the winning is fun-tastic.
Free Play of Tiki Island Slot
If you want to try giving Tiki Island a spin, Slots Temple provides you with a demo mode of this popular online slot. You'll be able to give it a spin for free without having to wager any of your own money. It is important to play the demo mode of any slot before you play for real cash, as it will help you decide how much to budget for each stake. We recommend playing at least 200 rounds of free play on Tiki Island. This will give you a good idea of the slot's gameplay, so you can decide for yourself if this is a game that you want to wager real cash on. You're certainly in for a treat when you give this game a spin, so be sure to try it for free!
Enjoy Tiki Island? Why Not Try...
It's no wonder Tiki Island is such a popular online slot. Offering players the chance to win fantastic cash prizes along with all sorts of impressive bonus features, the game certainly makes for a great online gaming experience. If you've been inspired by this game to try other similar slots, then why not give these games a spin:
* Tiki Island trademark / license is owned by GameSys. This site is not endorsed by GameSys.