Depending on your age, you may know them best as slot machines, fruit machines, or even one armed bandits, but whatever you call them, there's no denying that they are as popular today as they were when American, Charles Fey, invented the first one back in the late 19th century. The prototype was simple - with three spinning reels dotted with symbols of diamonds, spades, hearts, horseshoes and a Liberty Bell. Who knows what he would make of the online slots which are so widely available today - but chances are he would be both pleased and proud that his early work has led to something still much loved today. Games like Double Bubble Jackpot, produced by Gamesys, are an excellent reminder of how the classic slot game is still entirely workable in the 21st century.

Read our full review below.

This 5-reel, 20 payline slot combines both modern and classic features to great effect, but it isn't just the colourful and well presented graphics, flexible wagering options or 96%+ RTP that deserve a shout out, as there are also plenty of fabulous bonus options which can help boost winnings in a slot which is already more than averagely generous in its base game.
When you launch Double Bubble Jackpot, the first images you see are definitely striking. The pale green background is smattered with huge bubbles, but look closer and you will see a fair bit of pipework and some clouds too. It's a little eccentric, which adds to the charm. Perhaps this the invention of a scientist who has been banished to the boiler room? If that's the case, we're not sure what to make of the clouds!
The reels themselves are sitting inside what looks rather like an old-fashioned television set, and the 5 x 3 design has the letters B O N U S sitting at the bottom right of the screen. This is indeed intriguing, and suggests that filling those spaces will bring some extra perk or reward. The control panel is basic but functional, making it easy for all players to spot the spin button, and to adjust the paylines from the default setting of 20 right down to 1, if they wish. There's a matching button which changes the stake per line, per spin, and a section which will show you how much each spin added to the coin bank. The overall simplicity of this game keeps it authentic - it's a wonderful nod to the classic fruit machines of days gone by in every way, and playing it never gets old.
How to play Double Bubble Jackpot
Double Bubble Jackpot is designed to let players just load it up and get playing, but before your finger can hover over that spin button, there's the small but crucial matter of setting up the game to suit your preferences and budget. Unlike many slots these days, there are no fixed paylines in place here, so as the player, you have total control over the number you choose. The game will load at the maximum level, which is 20, so if you make no changes, that will be your start point. However, there is the option to click the negative button and drop down one at a time until the lowest number, which is 1. Of course, choosing to stick with 20 gives you the best chance of winning, and in many ways, it makes more sense to play all 20 lines and up the ante via the wagering button instead.
Next up is the stake - you will probably find that 0.5 is the default for this, but you can drop to 0.01 if you wish, just click on the minus sign next to the coin value button. If you want to go the other way and splash a bit more cash, each click of the plus sign will see your wager jump in stages. Currently these are from 0.01 to 0.02, 0.05, 0.10, 0.20, 0.50, 1, 2, 5. With each spin, the figure you went with will be multiplied by the number of paylines you chose to play to calculate the total bet that time.
You win when at least three matching symbols land on the same payline, although there are also a few bonus options which can boost your chances and the rewards for winning.
Double Bubble Jackpot slot graphics
Every visual aspect of Double Bubble Jackpot is amazing, from the surreal opening scene blending fluffy clouds and industrial pipes to the brightly coloured fruit icons scattered across the reels. This is retro artwork at its very best, retaining the feel of the original slots while at the same allowing it to hold its own against the modern graphics so many players have come to expect.
Let's look in more detail at the symbols you will come across on the Double Bubble Jackpot reels. As you'd expect, they are all mainly based around the original or traditional icons of fruits and bars, and the designer has managed to very cleverly retain that classic look for each. For the fruit, we have a luscious yellow lemon, a shiny purple plum, an orange, a small bunch of cherries, a larger bunch of dark purple grapes and half a juicy watermelon that looks good enough to eat. Then there's the bars, with the single bar being coloured pink, the double bar light blue, and the triple bar green. Making up the numbers are the BONUS, the lucky/super 7 icon and of course, the game's namesake - the Double Bubble Jackpot symbol.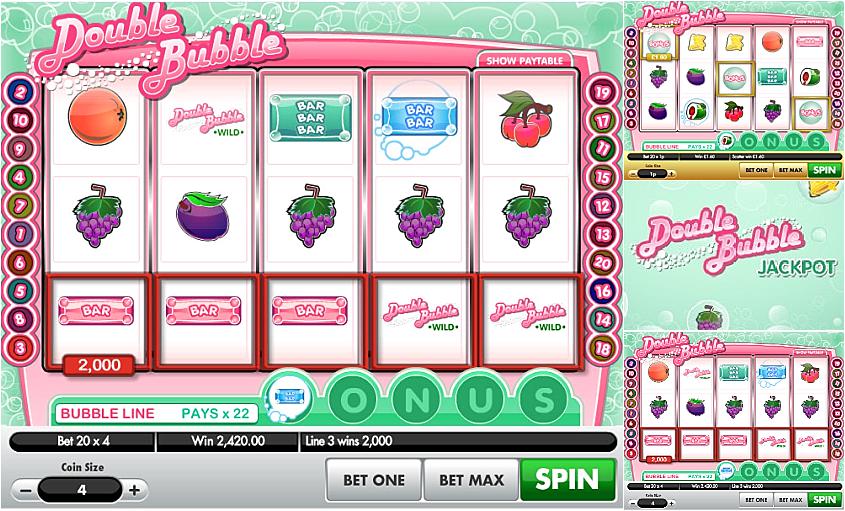 What is the RTP of Double Bubble Jackpot?
The RTP (Return to Player) is a figure which indicates how much money invested by players over a period of time will eventually be returned to them in the form of winnings. This may be measured and recorded in various ways, perhaps say every 10,000 spins, or over a set period of time like six months. Double Bubble Jackpot has an RTP of 96.2%, which is slightly higher than the average figure for slots, which is around 95%. This means that on average, someone wagering a total of £100 would end up with £96.20.
Of course, it's important to remember that these stats are based on long term monitoring. It's never advised that a player would sit and spin the reels for extremely long periods anyhow. Many of us may be familiar with that feeling where you feed a machine then walk away with nothing, only to have the next person on it hit the jackpot - but that's simply how it works. The most important thing to keep in mind with RTP stats is that overall, the higher they are, the better your chances of winning are.
How to win at Double Bubble Jackpot slots
There are no magic tricks or hacks to share to increase your chances of winning at Double Bubble Jackpot, and anyhow, you already know that the odds are better than with most slots, and the payouts are decent too. Winning is always more likely when you play regularly, and of course, you boost those odds when you increase the amount wagered per payline, or the number of paylines activated with each spin. Other than that, winning is dependent on how you do with bonus games and options. Let's look at what Double Bubble Jackpot offers in that department.
The game's namesake logo acts as the wild, helpfully substituting itself for any of the other symbols except the Double Bubble BONUS. The Bubble Popper bonus is all yours whenever the icon appears on the odd numbered reels - one, three or five. This opens up a special screen featuring several lovely bubbles, and all the player has to do is choose one. Each bubble contains a unique bonus multiplier, which is revealed once a bubble is chosen, and this is multiplied by the coins wagered. So those who went higher benefit greatly at points like this.
Information on Double Bubble Jackpot payouts
Double Bubble Jackpot has a fairly straightforward paytable, which players can easily find by clicking on the 3 bars icon in the top right corner of the main gameplay page. It's nicely generous too, with many of the symbols paying out when anywhere between two and five appear together on the reels.
The most lucrative symbol is the Double Bubble Jackpot icon, which pays a massive 20,000 coins for five matches. That is something to make even the most seasoned slots fan feel weak at the knees! There is a bit of a sharp drop, from those dizzy 20k heights down to just 500 coins for landing four symbols, but it's still all adding to the pot. Matching 3 makes you 100 coins richer, with 20 being the reward for two. Not many slots games bother to pay anything for less than three matches, so you can't complain.
There's not a huge difference between returns for the rest of the icons. Super 7, the lemon, and all of the bars pay 500 coins for a full house of five matches, dropping to 50 - 200 for four, and 25 - 50 for three. The three bar symbol and the others mentioned do pay a few coins out if two identical symbols spin onto the winning wheel at once, but the other bars and the remaining fruits don't.
Look out for a 200 coin reward if you hit the top score and get five shiny purple plums or the same number of juicy oranges. Bringing up the rear on the paytable chart league is the rest of the fruit bowl - the purple grapes, half watermelon and cherries, which cough up 100 (for five), 20 (for four) and 5 (for three). As you may expect though, the lower paid symbols do tend to make more frequent appearances, so they are all going to count in the end.
Double Bubble Jackpot slot bonus features
Players can't help but love the major jackpot bonus feature - known as the Double Bubble Bonus Game. To trigger this fun reward, simply get a bonus symbol to show on reel 1, 3, or 5. When that happens, three bubbles come onto the screen and the player must choose - and pop - just one of them. The bubble chosen will reveal your prize - a multiplier which will be applied to the stake played that spin. What an exciting moment!
Double Bubble Jackpot slots on mobile - Android, iPhones and tablets
Some players enjoy playing Double Bubble Jackpot slots on larger screened laptops or desktops, in their chosen web browser, whilst others prefer to access the game by mobile and tablet. If you choose to play using a mobile device, there are two options for loading the game. One is to go the same route as a fixed device user, and play via the Internet. This doesn't compromise the quality of the gameplay or graphics. However, there is another option for iOS and Android tablet and smartphone users - to download a specially designed app which could offer some extra options available only to mobile players.
Our experience of playing Double Bubble Jackpot
The beauty of online slots is that every game has something different to offer players, and new things to find, figure out and experience for yourself. We couldn't resist having a dabble with the free, demo version of Double Bubble Jackpot, and being good sports, it's only fair to share with our readers our experience and opinions on how things went.
Things got off to a great start, with a very short loading time meaning we were in and ready to play in just a few seconds. The landing page is pretty simple, which is always a plus. There's no need to over complicate the controls when all you really need to know is how to adjust the paylines and stake per line to suit yourself, how much you have won each spin, and where the spin button is! Even the three bar icon leading to more information only offered simple, straightforward information on how to adjust the volume and details of the paytable. An autoplay function would have been nice - after all, there are always times when you get busy or distracted and it comes in useful. Still, overall, its absence was not a deal-breaker.
Talking of time, we decided in advance to keep our playing time quite short, so we knew from the outset that the chances of winning one of the sizeable bonus payouts was unlikely. This didn't affect the experience though, and we can definitely say that we won a good few times during the three tester rounds played.
Round one
We kicked off with ten spins at the default settings of 1 coin and 20 paylines. Spin 1 gave us nothing but a heavy heart, and although the second spin seemed more promising - we landed a half watermelon in the first letter of BONUS - there was no ker-ching, so no cash coming our way. Then things started to pick up! We made 10 coins in spin 3, won 22 in total over spins five to seven, a massive 73 in spin 8, 34 in spin 9, and then zero in the final turn. Having started with 50,000 free coins in the bank we ended with 49,939. So okay we didn't make a profit, or even break even, but we had the satisfaction of having enjoyed every moment.
Round 2
For this round, we cranked up the heat and upped the stakes to 20 coins and 20 paylines, expecting to beat the previous score, but unfortunately that didn't happen. Despite a couple of huge wins in three of the ten spins, we still ended up a couple of thousand down by the end. Raising the stakes, even in a free play game which is just for fun, still gives you an adrenaline rush, and despite not making it big this time, we were confident that with more time, it would have turned around for us.
Round 3
Here we went all out, choosing 20 paylines again, but pairing these with the max option of 100 coins per line! A risky strategy perhaps, and we did win only three out of the ten spins, but boy, what winnings they were! We were more than satisfied with the results - and ended the session with more than we started with. As predicted, there were no huge jackpots up for grabs, but we benefited from several great payouts.
If you enjoy Double Bubble Jackpot, you'll love these titles too
Double Bubble Jackpot adds a modern twist to a retro classic, so if you enjoyed playing this game, you may well want to check out a few more which pick up on similar themes. Why not take a look at:
Reminiscent of 1960s ice cream parlours, this slot is sweet indeed. Designed by Play N Go, the three reels pack in a whopping 27 ways to win, an RTP of 96.10%, and a very nice re-spin option that only needs two matching symbols across the reels to make an appearance. As it has only three reels, there are no paylines to work around, simply land any two symbols on adjacent reels - starting from the left hand side. Look out for the wild icon, as this subs for all the regular symbols. By the way, the graphics department went all out on designing those extremely mouthwatering indulgent treats. Along with a candy striped red seven which could easily be a peppermint treat, there are goodies such as strawberries decorated with cream and orange slices with a heavenly sugar coating to drool over. There is only one main bonus feature - rolling wild free spins. If this pops up on reel three, you get two free spins. The secondary bonus is the popular 'gamble' option, which can be used to increase winnings by guessing either the suit or colour of the next card to be drawn from a pack.
Sugar Pop
Popular with both Double Bubble, Bejewelled, and Candy Crush fans, this Betsoft slot is quite a way from the traditionally designed slots you may expect. Rather than paylines, it offers cascading reels which operate on several levels, producing winning combos in several ways. The aim is to spin the reels and hope as the symbols settle that they create a line of three matching pieces which then pop, shatter and are replaced by more. If the new pieces create further matches, the process of popping continues, and your winnings rise accordingly. If you collect any of the special candies which appear sometimes, then more features are activated - and with more than ten on offer, that's very likely to happen.
Fruits Gone Wild
Stakelogic are the brains behind this slot which, like Double Bubble, is based on the classic fruit machine design, but it is taken to another level with free spins and XL symbols up for grabs throughout regular play, which lead to more chances of winning bigger prizes than usual. It's fast, it's bright, and it features a lot of fruit - so how wild is it in practice? The answer is pretty wild indeed - there are wilds lurking on paylines waiting to turn into cash, and plenty of free spin opportunities too.
The Godfather
On the other hand, for a taste of retro linked to classic movie land, this slot could be your next big thing.
Based on the iconic film of the same name, this slot is jammed with fun and exciting features which provide great chances to win big prizes. The symbols are cleverly ironic, including images such as red wine, pasta and machine guns, and the bonus opportunities are impressive. Look out for bonus wedding cakes, cut the cake games, wild horses' heads, stacked wilds and multipliers to name just a few.
Houdini
Step back into the wonderful world of entertainment with one of the most iconic performance artists of all time.
A world famous escapologist, the question has to be can you navigate your way round the reels and escape at the other end with the riches and kudos you were seeking? Well with three bonus games and a huge jackpot on offer from this Gamesys slot, there's no reason why not. Harry Houdini was one of a kind, but this game is designed to give players a taste of stage action, to really connect to the magic being practiced before their eyes. There are wilds, scatters and bonuses galore - so come and enjoy the locked chest (scatter), and the balloon and great escape bonuses.
Nuts and Bolts
It's no surprise that this slot is from the Gamesys stable, as it's both innovative, madcap and completely original. The Nuts and Bolts of the title are actually robots that want to rule the planet, but they seem to be in pieces all over the board! Don't question things too much, just enjoy the free spins and other bonus features.
Gem Heat
If you especially love the multipliers that the Double Bubble Jackpot slot features, then this next game is definitely going to be one you enjoy.
Designed by Playtech, this 5-reel slot offers the option to grab increasing multipliers while playing the free spins bonus games. The retro-style symbols are centre stage here too, with lucky 7s, (supersized - so they sit across two reels), the usual bars, and of course, lots of lovely sparkly gems appearing on the reels. This is a fast moving game, so it's great when you want to burn off some excess energy. In fact, it's so fast that as the reels settle, anything you have won is highlighted in bright orange flames! The other icons are not left out of the light shows ether, with the 7s sporting a flame effect and the wild giving off a bright gold glow. If all this isn't enough, there is also a wild, scatters, stacks, and free spin possibilities.
Secrets of the Phoenix
Here's a final suggestion of a Gamesys slot that could interest Double Bubble fans.
This slot has an original concept and delightful visuals which combine with nice bonus options to deliver a really good game experience. The setting is a fantasy world inspired by ancient South American civilizations, and the graphics used do a lot to make things look as authentic as they ever could. Look out for stunning animal orbs featuring images of tigers, eagles or dragons, animal inspired stone crests, and intricately carved stone pillars. The 25 paylines are fixed, which isn't everyone's thing, but there's plenty of flexibility in the stake settings to more than compensate for that. Don't forget there are wilds, free spins, and an amazing cascade feature.
Double Bubble Jackpot offers at online casinos
There are lots of amazing offers around if you would like to play Double Bubble Jackpot online, so don't settle for the first deal you see. Just a few examples of the many opportunities around are:
- a £50 free cash gift with a £10 deposit from your own pocket
- matched deposit (max £200) and 100 free spins on top
- 50 free spins for new members
- 100% matched deposit (max £300)
- 100% matched deposit (max £500)
- 100 free spins when you make your first deposit
- 30 free spins when you spend your first ten pounds
Double Bubble Jackpot slot review
There's so much to say about this slot, but where to start? Double Bubble Jackpot isn't a flashy slot by any means, but it's packed with charm and it's a delight to play. Players of all experience and ability levels can jump right into gameplay, so hurray for a slot that doesn't baffle players with complicated controls and endless bonus options which detract from the essence of a game.
Double Bubble Jackpot effortlessly blends nostalgia and simplicity, reward and challenge to offer endless entertainment to all. This slot is widely available amongst online casinos, and attracts a lot of free slot and generous welcome offers. The RTP is impressive and there are just enough bonus opportunities to make it fun and exciting, but not overwhelming.
This is a slot which appeals to players of all age groups, and is highly recommended on every level.
About Gamesys
Gamesys started life back in 2001 as the brainchild of a small group of like-minded developers. Fast forward to now and the original team has transformed the business into a global entity, with its headquarters in London and several more bases around the world. Oh and let's not forget the 1,000+ people who are proud employees.
Winning awards is something Gamesys developers and designers are pretty good at, but they are more proud of the boundaries they push and the thrills they bring to fans both old and new. Being bold, being first, and changing perspectives is their passion, reflected in a very fitting mission statement: "To be the world's most entertaining online gaming company".
Gamesys are the folk supporting huge names like Sun Bingo and Virgin Games, to name just a few.
Double Bubble Jackpot FAQ
Can I play Double Bubble Jackpot slots for free?
Yes, here at Slots Temple, you can play this slot in demo mode, and it is also usually possible to play for fun when registered on a casino site. It's always a good idea to spend some time playing for fun before going on to wager cash on a game. Some people only ever play for fun! Either way, it never hurts to get to know how a slot works and whether you actually enjoy playing it before committing too much time or money to it.
Does Double Bubble Jackpot slot have free spins?
While the Double Bubble Jackpot slot game itself doesn't offer free spins, there are lots of online casino sites offering free spins on the game when a new player signs up. Take the time to look for those offering free spins on this game in particular, as general ads for free spin bonuses can be restricted to one or two specific games.
This can be a fun way to build up some winnings without using your own cash, although many of the free spin offers require a deposit from the player before they are activated. Also take the time to look at the 'play by' information which will be advertised alongside the free spin promotional information - as some may need to be claimed and used within a fairly short time frame.
Can I win real money while playing Double Bubble Jackpot slots?
Yes, anyone who chooses to register with an online casino and play this slot through their site should have the opportunity to win real cash. There are usually lots of tempting, and sometimes quite lucrative, offers open to new players, so it's always worth shopping around when looking for a site to register with. Also watch out for the various offers, as some offer free cash or spins when players deposit cash, and some don't expect the deposit.
Do you have any Double Bubble Jackpot tips or cheats?
The best tip we can offer you are to be persistent - it could take several spins to see any winnings, but things can turn around very quickly. Don't overstretch what feels comfortable when it comes to wagers or paylines - it's always easy to adjust things as and when you want to. Finally, make the most of bonus opportunities - there are plenty to be had.
Anyone willing to do a little research online may come across free joining offers for casinos featuring the Double Bubble Jackpot slot, or bonus codes which have special deals and offers attached, so make the most of these if you come across them.
Can I play Double Bubble Jackpot slots with no deposit?
Online casino providers all have different rules when it comes to what they will and won't offer to potential new members, either to encourage them to join up, or as a reward for joining or being a faithful customer. These days, it is not too difficult to find plenty offering those registering on the site the chance to play slots without having to make a cash deposit into their on-site account to fund play. In this case, the online casino will provide some kind of welcome bonus which will allow the relevant person, or people, to play immediately, without adding their own funds to the account. An example of this would be: Mr. D signs up for XYZ Casino and is awarded £10 to play with. This cash is his to use on the site, but it cannot be withdrawn to his own bank account. If Mr. D wagers all £10 and is left with winnings of £20, he can withdraw that.

Sometimes though, a casino adds rules which mean all free deposits need to be recycled back through the business until they reach the target set. This could mean that nothing can be withdrawn until the bonus amount awarded has been played through the system anything from several to a few hundred times.
Can I download Double Bubble Jackpot slots?
There are specially designed apps which can be downloaded for both iOS and Android devices if you prefer to play using them, but it isn't 100% necessary, as the game can be accessed on phones and tablets via your usual web browser.
Gamesys has developed a free iOS app which is available to those aged over 17. It is compatible with various iOS devices across the iPhone and iPad ranges, but iOS 9.0 or later is necessary.
* Double Bubble Jackpot trademark / license is owned by GameSys. This site is not endorsed by GameSys.