Visitors must verify their age before playing free slots
Over 100,000 users successfully verified
Your data will not be saved
We'll never contact you
We'll never share your data
Quick, easy and I was playing free slots in under a minute. - Chris H




Write a review




iSoftBet's 3 Charms Crush is a super cute online slot that provides players with a unique online gaming experience. With generous multipliers available, this fun 5-payline slot provides players with the chance to win a huge 500x top prize.
3 Charms Crush is an adorable online slot from iSoftbet with simple social-style gameplay. It definitely brings players a unique online gaming experience, along with the chance to cash in on a generous 500x top prize.
3 Charms Crush Slot Graphics
3 Charms Crush is one of the cutest online slots out there today. The game features a vibrant, neon colour scheme with symbols that feature cute little bubble creatures. There is an upbeat tune playing in the background and adorable sound effects play whenever you hit a winning combination.
In fact, 3 Charms Crush looks more like a social game (ie Candy Crush or Bejeweled) than it does an online slot. So, if you're looking for something a little bit out-there and not like your usual online casino game, then this is the perfect title for you.
How To Play 3 Charms Crush Online Slot
There are five paylines in 3 Charms Crush from iSoftBet. Bet sizes range from 5p to £5, so this game is perfect for players who are on a bit of a budget. You can also use the autoplay feature for up to 100 spins.

What Is the RTP of 3 Charms Crush Slots?
The RTP (return to player) on 3 Charms Crush from iSoftBet is 97.23%. This payout percentage refers to the amount of money that you'll receive as prizes for every £100 you wager. It also seems to be a low volatility game that pays out prizes often.
How To Win At 3 Charms Crush Slots
The gameplay of 3 Charms Crush is very simple. You just have to land three or more matching symbols on the same payline. There are only three symbols available, which means that you'll hit winning combinations more often than in most other online slots.
3 Charms Crush Slot Bonus Features
The bonus features in 3 Charms Crush are built right into the base gameplay. Whenever you hit a winning combination, the line it occurs on will determine your multiplier. One the first line, a 1x multiplier applies, a 2x multiplier applies on the second line – and so on, until you hit a win on the fifth payline and a 5x multiplier is added to your win.
3 Charms Crush Slots On Mobile – Android, iPhones and Tablets
You can play 3 Charm Switch on any tablet, smartphone or PC, as the game is fully mobile optimized. Regardless of how you prefer to play, you'll have the same great gaming experience with vibrant graphics and fast-paced gameplay.
3 Charms Crush Slot Review
3 Charms Crush might not be the most innovative online slot out there, but it is definitely one of the cutest. iSoftBet really does a great job of creating a unique gaming environment that you won't find in games from other developers. You won't even mind that there are no off-screen bonus features because you'll be cashing on wins very often during the base game. It's hard to take your eyes off the screen while playing this cute and quirky online slot, and we can't recommend it highly enough.
3 Charms Crush FAQ
Can I Play 3 Charms Crush Slots For Free?
3 Charms Crush is available to play right here at Slots Temple. There's no need to make a deposit at an online casino or register to any sites.
Does 3 Charms Crush Slot Have Free Spins?
3 Charms Crush does not feature a free spins bonus game.
Can I Win Real Money While Playing 3 Charms Crush Slots?
You can vie for generous real-money prizes if you sign up to a real-money online casino that is powered by iSoftBet.
Can I Play 3 Charms Crush Slots with No Deposit?
3 Charms Crush is not available to play as a no deposit slot at a real money casino. You can play it at Slots Temple without making a deposit, but you'll be playing for play-money prizes.
Can I Download 3 Charms Crush Slots?
Like all iSoftBet games, 3 Charms Crush is designed to play within your web browser, so there is no need to download any software.
Disclaimer: 3 Charms Crush trademark / license is owned by iSoftbet. This site is not endorsed by iSoftbet.
* Although we try and match games with Casinos that have them, we advise that you double-check the slot content on the casino before making a deposit.

Slot Data
Games by Same Maker


User Reviews
Overall score:

4.8

out of 5 stars
















There are no reviews for this game
Be the first to write a review

Slot Data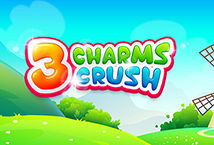 What's your rating for this game?
Submitted
Thanks for your feedback