The Secrets Of The Phoenix is an exciting slot from Gamesys that is reminiscent of both ancient South American temples and the floating islands from the movie, Avatar. In this amazing slot, you can reap the benefits of the cascading reels, which grant you payouts over and over again with every winning combination. Scroll down to find out more on bonus codes, RTP and where to play for real.

Read our full review below.

The Secrets of the Phoenix ™ trademark is owned by Gamesys. The use of this trademark on this website does not imply any endorsement of this website by the trademark owners. The demo link to this game is solely for reference and to accompany the review. The game link is from an external source and is not hosted by this website.
Secrets of the Phoenix Casinos & the Best Bonuses
Secrets of the Phoenix is a Gamesys Slot hence can be played at Casino and Bingo sites that have Gamesys Slots available - the best offer for this game is currently to be found at Starspins Casino.
Can I Play Secrets of the Phoenix in Demo Mode?
Absolutely! Just glance above to see that we link to this amazing Slot in demo mode (the demo version of the game above is on the JPJ website - this means that you can play (on both desktop and mobile) for free without having to spend a penny. We would recommend you do this on all games you are considering trying for real money - testing in demo mode will give you an idea of how the game works, what kind of stakes you feel comfortable with and how frequently bonus rounds pop up... It'll also give you a rough idea of whether the game is volatile (i.e. how frequently you pick up wins) and what kind of RTP the game has.
We would recommend having at least 200 spins in demo mode to give yourself a decent picture of how the game plays before trying this game for real money.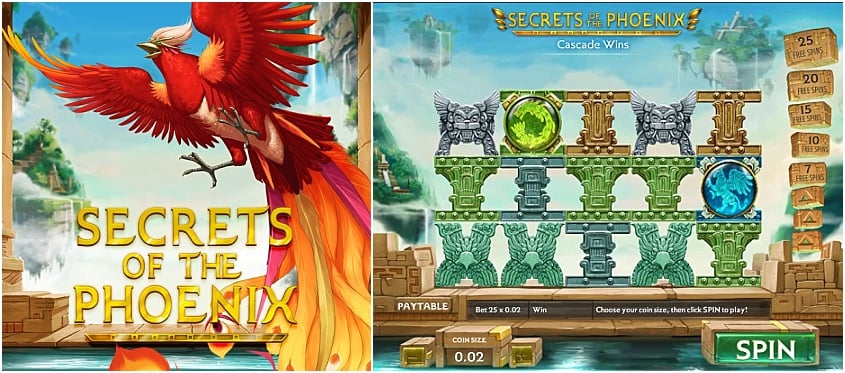 How To Play Secrets Of The Phoenix Slot?
If you're new to playing free slots online, it is important that you know exactly how to get started. Fortunately, it's a quick and easy process that doesn't require any special software or hardware. Just click on game, wait for it to load and enjoy!
Secrets of the Phoenix has 25 paylines, and you'll be prompted to select a wager. You will always be wagering on 25 lines, and you can choose to bet anywhere from 1p to £4 per line for a total minimum bet of 25p and a total maximum bet of £100. Be sure to choose wisely, so as not to exceed your bankroll too quickly.
You can click on the More Bets button to reveal a wide range of wagers just is case your preferred bet isn't immediately available. There is a Repeat Bet button that allows you to make the same bet again, but there is no Autoplay function available.
Whenever you hit a winning combination in this slot, all of the winning symbols will disappear and new symbols will fall into their places to potentially trigger another win. So long as you continue to hit consecutive wins, you'll climb the free spins metre. After three wins, you'll bank 7 free spins and you can earn up to 25 in a single spin.
Also, watch out for the Phoenix symbol. When it lands on the reels, it will expand to fill up the entire reel. This will help you trigger even more generous winning combinations and help increase the frequenct of your wins.
What is the RTP on Secrets of the Phoenix?
For those of you not in the know, the RTP stands for "return to player" - this is a gambling term that lets the player know the exact return they should receive over time. Of course you will not see an exact return each time you play, but if you where to play the game for an infinite amount of time the payout would even itself out to the given RTP %.
RTPs are expressed as % and in the case of Secrets of the Phoenix the game pays out at 94.97% - this means that on average if the game takes £100 in wagers it will pay out £94.97.
Secrets Of The Phoenix - 100 Spin Experience
If you're short on time or aren't in a location where you can play free slots online, our 100 Spin Experience is here to help. In this section, we analyze the gameplay of Secrets of the Phoenix over 100 spins to give you a good idea of what the game is like if you're spinning it for yourself.
The game can take some time to load, so try to be patient. If you find yourself wanting to navigate away from the game, just give it a couple more seconds and you'll be on your way.
We chose a bet size of 25 x 40p, which is a fair middle ground for both high rollers and casual players. Within the first couple of free spins, we were able to trigger some impressive wins worth 50x our total stake, and by the 10th spin, we were in the free spins round. Unfortunately, we didn't hit any wins during the bonus game, it was over almost as quickly as it began. We weren't able to trigger the free spins round again during our experience, but we did manage to rake in a profit of about £30.
This is likely due to the game's Raining Reel's format, which allowed us to hit up tp three winning combinations in a single spin. In one case, we hit four consecutive wins, and that was when we triggered the free spins round. The stacked wild also helps improve things as we noticed it was very useful in helping to trigger winning combinations.
Secrets Of The Phoenix Review
The Secrets of the Phoenix game is a highly original slot from Gamesys that is exclusive to them, and it has some great features to help you score big wins. If you want to give this online slot a try, you can do so for free on our site, and we have hundreds of other free slots if you want something different.
Secrets of the Phoenix is a cascading reels slot, which means that you can have more than one win on a single spin, as the reels tumble down to potentially create more winning combinations. It plays on a standard five-reel grid, and there are 25 paylines which are fixed so you can't choose which lines to activate.
This online slot game is based in a temple and has a South American tribal style for the symbols that are used on the reels and is based on the mythical bird. These include six images of stone relics with different shapes and colours that you need to match up on paylines to earn the bet multipliers.
There's no distracting music to take the focus off the action on the reels, but there are some classy sound effects that accompany your spins. As the symbols drop into the reels, there is a stone-like sound that plays, and then a selection of harp bursts can be heard when successive cascades come on to the reels.
This fantastic slot can even be played on your mobile devices, including Android and iOS products, so you can access the game on your mobile and tablet for a quick and convenient hit of Secrets of the Phoenix.
Secrets of the Phoenix Art Work and Screen Shots
Raining Reels
The raining reels are a great feature of this slot and provide you with many winning opportunities, even from just one spin. Once you've made a winning combination, the symbols will disappear from the grid and new symbols will come down and take over the spaces. If these create another winning line, then the cascading reels will be triggered again, and this continues until you can't make any more matches.
Stacked Wilds
When a whole reel has been cascaded on a spin, it will be replaced by a Stacked Wild, and you will have one more opportunity to win, as the Stacked Wild only remains for one turn before it is replaced by new symbols.
Video of Secrets of the Phoenix with Bonus Round
Free Spins on Secrets of the Pheonix
The free spins bonus is also triggered by the cascading reels, and you'll enter this zone if you achieve at least four cascades on one spin. This bonus round takes players down into a dark underground world and offers you plenty of ways to increase your rewards. It also adds more free spins to further boost your chances of winning.
The standard Secrets of the Phoenix game is relatively simple, and there are no Scatters to help unlock the bonus features. However, the cascading reels can unlock the Stacked Wilds and free spins to make this an extremely lucrative slot that is also great fun to play and offers something different to the typical slots. And remember that the more cascades you get, the more rewards you'll receive.
Enjoy Secrets of the Phoenix? Why Not Try...
* Secrets of the Phoenix trademark / license is owned by GameSys. This site is not endorsed by GameSys.