Donuts Slot by Big Time Gaming offers 2401 ways to win, an RTP of 96.54%, a free spins bonus round that can be re-triggered, donut boxes that offer wilds and multipliers and a top win worth 40,000x.

Read our full review below.

There are times when you're craving a snack and nothing but a good donut will do. These are the moments when you'll want to give this Big Time Gaming slot a try. Donuts is a fun and exciting online slots game with vibrant graphics and a unique 4x4 format that offers up an impressive 2401 ways to win. Players will be impressed with the great range of bonus features that offer up multipliers, free spins and extra symbols to enhance their overall winning potential.
Donuts Slot Graphics
Donuts from Big Time Gaming features a vibrant Americana theme. The game is set out in the dessert at a retro diner. The reels are designed to look like a juke box, and there's even a classic rock tune playing in the background.
How To Play Donuts Online Slot
Donuts is set out on a 4x4 grid with the chance to trigger double symbols. This means that players have 4900 potential winning combinations. So, while the game might seem simple, it actually provides quite an exciting experience. Additionally, a wide range of wagers are available from 5p to £10 per spin. As such, it is a game that is perfect for players who have smaller budgets.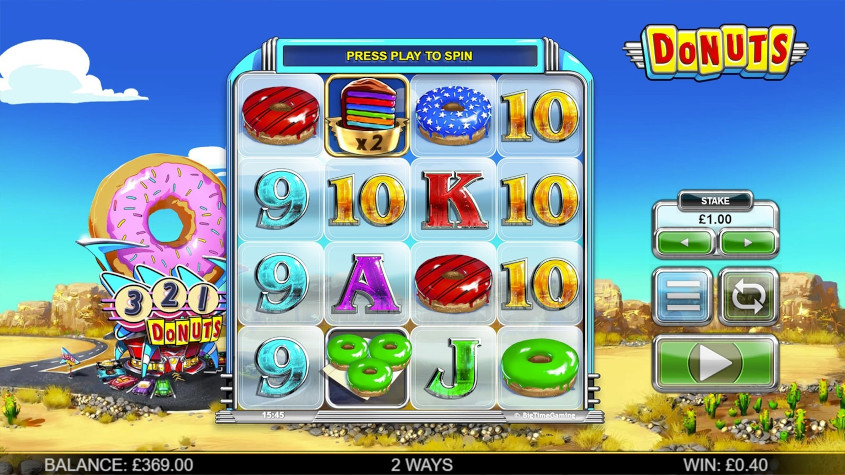 What Is the RTP of Donuts Slots?
Donuts from Big Time Gaming features an RTP (return to player) of 96.54%. This payout percentage lets players know how much money they can expect to earn as prizes on average for every £100 they wager.
How To Win At Donuts Slots
To land winning combinations while playing Donuts, you have to hit three or more symbols on the same line. What's unique about this game is that some symbols will be doubled, tripled or quadrupled (kind of like Cats from IGT). So, it's possible to land a 16 of a kind combination with four donut symbols that have expanded. The top prize available is worth 15x when you land four yellow and purple donuts – but this prize could be multiplied if you land any of the boxes with extra donuts.
Donuts Slot Bonus Features
When three golden donuts symbols land on the reels, you'll receive either 12 or 20 free spins – but, before the bonus round starts, you'll get the chance to earn multipliers. As you spin the reels, you'll land scatter symbols that will be applied as multipliers to your prizes. If you're lucky enough, you could end up with a 50x multiplier during you free spins bonus!
Donuts Slots On Mobile – Android, iPhones and Tablets
You can play Donuts from Big Time Gaming on any tablet or smartphone, as well as on desktop computers. The game is based in your web browser, so you don't have to download any thing or worry about whether or not the game will be compatible with your operating system. No matter how you choose to play, you'll be able to have the same gaming experience with sharp graphics and smooth gameplay while playing Donuts slots online.
Donuts Slot Review
Donuts is a fun and charming online slot from Big Time Gaming, which offers players a great online gaming experience. The wins come fairly often, especially when you trigger the extra boxes of donuts. It's definitely a departure from other online slots from Big Time Gaming, but Donuts still provides an exciting gaming experience that should appeal to a wide range of players.
Autospins and Other Settings
You can adjust this slots game to play it in a way that suits you. Simply click on the menu button to the lower left of the screen, and a smaller, pop-up screen appears. Along the top menu you will see the option 'Paytable' - click on this to view the paytable. Next along you will see the option 'Auto'. Here, you can set a number of autospins from 5-10. You can also set a loss limit to stop the autospins at and also a single win limit to stop autospins at. Next to the 'Auto' button is the 'Settings' button - click on this to turn the sounds on or off. Click on the 'Help' button to find out more about the game.
Donuts Theme
The theme of this game is clear from the title; it's all about those delicious deep-fried battered rings that we call donuts. The theme stretches a little wider than that to incorporate US diner culture, where a coffee and a donut is a daily tradition for many. Donuts are said to have been brought to the US by Dutch settlers in the 18th and 19th centuries. The distinctive 'ring' shape is said to have been invented by a 16-year-old aboard a merchant ship in 1847. His name was Hanson Gregory and little did he know that he had created a food that an entire continent would be associated with for hundreds of years. In the US, they are usually made by creating a batter of flour, eggs and milk which is than deep fried. These kind of 'ring' donuts differ from the UK's hole-less, filled jammy 'doughnuts'. Toppings traditionally include icing, chocolate, sprinkles and chocolate shavings, but in recent years, we have seen all sorts of toppings on donuts, from maple syrup to bacon and peanut butter. Despite ring donuts being particularly associated with the US, Canadians actually consume the most donuts per capita, although the Providence region in the US has the most donut shops, at an astonishing 23 per 100,000 people. All across North America, National Doughnut Day is celebrated in June, whilst the Illinois Tour de Donut cycle race allows racers to eat donuts to reduce race time!
Food in slots games is the oldest theme of all. That's because the earliest machines gave out small sweets instead of cash and the symbols reflected these. For example, three lemon symbols would pay out a lemon sweet. The term 'fruity' was used to describe these machines and the word stuck around in the UK where it is still used to describe land-based slot machines today. The fruit theme has transferred well onto online gaming and has evolved into games such as Fruit Ninja, Fruit vs Candy and even non-slots games such as Candy Crush. As well as fruit, many other foodstuffs have made their way into the creative minds of slots developers, including Asian food in Win Sum Dim Sum and pizza in Mamma Mia. In this particularly tasty game, it's delicious donuts that capture our attention.
This slots game heavily features donuts, as we've discussed, but the theme also incorporates US diner culture, with motifs such as a jukebox and 1950s imagery. For anyone who loves a bit of Americana, this is definitely the slot for you.
Donuts Tips, Tricks, Cheats and Strategy
Donuts, like all good slot games, is powered by an RNG. This means the outcome of each reel spin is random, and cannot be manipulated or hacked by the player to make the reels land in their favour. This fairness is key to the fun and thrill of slots games. This means we can't offer you any cheats or tricks. Unlike casino card games such as blackjack, there is also no strategy involved in playing slots. What we can suggest is a number of tips which will reduce the amount of money you may potentially lose. Our top tips are as follows:
Set a time limit
Decide how long you want to play the Donuts slot for and stick with it. Avoid playing on one slots game for longer than an hour.
Set a money limit
Decide how much you are willing to spend and stick with this. Do not add more funds to your account in the middle of a session. Once the amount you told yourself you would spend has gone, walk away from the game. You can always come back to enjoy the game another day.
Leave on a high
Should you be lucky enough to get a big win, walk away from the game. This could see you end a session with a big profit.
Make small wagers
On Donuts, you can choose to make a low wager. This wager is made across all lines, as is the case with all Megaways style games. Stick with this low wager, which enables you to play for longer and also reduces the potential losses, overall.
Play for free
Playing for free is the most surefire way to avoid any losses at all. In the next section, we delve deeper into the huge benefits of choosing to play Donuts in Free Play mode.
Donuts Demo Play / Free Play
Here at Slots Temple, we are proud to offer thousands of titles in demo mode, and that includes Donuts, from Big Time Gaming. Demo Mode, often referred to as Free Play Mode, allows you to play with virtual money. The benefits of choosing free play are huge and include the opportunity to 'try before you buy'. That means not only having a go on Donuts, but also on the many other titles that are available for free at Slots Temple, until you find a game you know you want to wager real money on. Free play is also perfect for beginners, who would rather understand how slots work before they wager real money. Playing with virtual money allows you to play around with different types of wager and see what kind of rewards you get. It's also a good way to understand what everything means, from 'scatters' and 'paylines' to 'wilds', 'bonus rounds' and 'progressive jackpots'.
Wild Symbol
The wild symbol is depicted by a brightly coloured jukebox. It substitutes for all other symbols, apart from the scatter, increasing the likelihood of line wins. It only appears on reels 2 and 4, however.
Donut Boxes
Look out for those donut boxes that land on the reels. After each spin, they open to reveal up to four matching symbols in one box, or a wild symbol. Both of these hugely increase the likelihood of line wins. Should a wild symbol lie in the box, it will have an associated multiplier of ether 2x, 3x or 4x, which will be applied to any applicable line win.
Free Spins Feature on Donuts
The free spins feature in Donuts is triggered when three or more bonus symbols appear anywhere on the reels. This bonus scatter is depicted by a yummy gold donut. Players are awarded either 12 or 20 free spins. Before the feature starts properly, a short countdown bonus feature starts up. The numbers 3, 2 and 1 are shown on top of the screen and each time a new Gold Donut appears, it resets to 3. With each gold donut, the multiplier for the entire free spins feature is increased, potentially up to 50x. The free spins only start once the bonus countdown reaches zero. Whatever the multiplier ends up on, this will be applied to all line wins during the free spins feature, including during retriggered free spins. If this doesn't already sound like the best free spins round ever, you may be pleased to hear that the feature can retrigger multiple times, with no limit. Should 2, 3 or 4 gold donut scatters land on the reels during the free spins, a further 10, 20 or even 30 free spins will be awarded!
If you like Donuts Slot you'll love..
Donuts isn't the only delicious food-based slot out there, so if your craving is not satisfied, try out one of these other tasty slots games.
Douguie's Delight
This game celebrates US food culture with vigour. Imagine all the food you can eat from a stand at a baseball game and you have Douguie's Delights. This includes pizza by the slice, popcorn and burgers, all appearing on a five-reel, nine payline game from Pragmatic Play with free spins, wilds and scatters.
Food Fight
Enjoy all the fun of a canteen food fight, but without the mess or detentions in Real Time Gaming's Food Fight. Hamburgers, tomatoes, pizza and meatballs are thrown around in this 9 payline game that also features a progressive jackpot. To reach the bonus round, collect up scatter ingredients to make an ice cream.
Afternoon Tea Party
This wonderful game from iSoftBet has a more sophisticated edge than Food Fight or Donuts. In this game, players are transported to an elegant English picnic with a serving of tea in coloured teacups. Players are joined by a butler and some friendly mice in a game that has an excellent bonus round where you will help decorate the cakes for more wins. The game also features an excellent jackpot.
Banana Split
Banana Split, by High 5 Games, brings to the screen this overlooked retro dessert. In this low volatility game, small but frequent payouts are awarded from a set of reels featuring delicious banana split toppings.
Cops and Donuts
The fact that US cops eat a lot of donuts has been a long running joke in TV and popular culture, thanks largely to The Simpsons portrayal of Chief Wiggum. In this fun, 20 payline slots game from IGT, a 'cops and robbers' style chase sees robbers replaced by donuts. Watch those hungry cops chase the donuts! Graphics include a blend of cop related (handcuffs, mugshots, police tape etc) and food related (donuts, coffee etc) symbols. Three or more Fresh Donut symbols triggers the Donut Eating Bonus Round, where portly cops taste your donuts, paying out cash credits as they do.
Route 777
Route 777 is a thrilling game from the delightfully progressive ELK Studios. In this slots game, classic fruity symbols are combined with a fun Americana theme that runs through the game. Take a road trip through Death Valley as you encounter ELK's celebrated betting strategies (Optimiser, Jumper, Leveller and Booster). With three reels, a bonus round that triggers five free spins ( and up to 10 more) and the exhilarating Overtake Respins feature, as well as a Wheel of Fortune pick style game, Route 777 really is one hell of a ride.
About Big Time Gaming
Big Time Gaming is an Australian developer of slots games. The company was founded in 2011 by two innovators in the world of online gaming, who have over 30 years' experience in online slots and casinos. Today, those two innovators, Nik Robinson and Huw Macintosh lead a small team, creating some of the most celebrated online slots games to come out of the Southern Hemisphere. The ' well-known OMNI product range is found at some of the world's leading online casinos.
Big Time was one of the first slots developers to embrace the megaways format and it is one of the licensees of the Megaways trademark.
Top titles include Bonanza and Extra Chilli, both of which reached the dizzying heights of the European iGaming charts and have broken the company's turnover records. The company's most exciting title in recent years is Who Wants to be a Millionaire. Big Time partners with many other developers such as Scientific Games and Microgaming, under whose names some of the brand's games are released.
The development brand released Donuts in summer 2018, and it has already proved hugely popular.
Here at Slots Temple, we offer a range of Big Time slots for free including Bonanza, Book of Gods, Battleship Direct Hit!, Danger High Voltage and Faeries Fortune.
Donuts FAQ
Anything else you'd like to know about Big Time Gaming's Donuts slot? Check out our FAQ for more information:
Can I Play Donuts Slots For Free?
You can play Donuts slots for free right here at Slots Temple. There's no need for you to deposit any money or sign up to an online casino.
Does Donuts Slot Have Free Spins?
When three golden donuts land on the reels, you'll trigger the free spins round – and multipliers up to 50x can be applied to your win!
Can I Win Real Money While Playing Donuts Slots?
You can win real money playing Big Time Gaming's Donuts slot by signing up to an online casino and making a deposit.
Can I Play Donuts Slots with No Deposit?
While you can't play Donuts as a no deposit slot at real money casinos, you can give it a spin here for free.
Can I Download Donuts Slots?
Since Donuts is a browser-based online slots game, you don't have to download any software to play it.
* Donuts trademark / license is owned by Big Time Gaming. This site is not endorsed by Big Time Gaming.