Family Guy is one of several free games brought to you by IGT. The game uses a 3x5 reel interface with six types of progressive jackpots. The top of the line graphics, hilarious theme and brilliant colors make this a game you're sure to want to play all the time.

Read our full review below.

Introduction to Family Guy
This 3x5 reel slot game from IGT gives you many ways to win. The progressive jackpots are engaging and a fun new way to play slot games. In fact, the game has see extreme popularity since its introduction in 2012. If you want something really fun and a bit different than your average slot game, Family Guy is definitely the one you want to try today.
How to Get Started
Like many other slot games, you can play this one on your tablet, desktop computer or mobile phone anytime, anywhere. That's because you won't need to register, make a deposit or download anything to play the game.
You can find the game instantly on your device by searching for it in your browser. That means you can play Family Guy anywhere you are without any having to worry about completing a bunch of steps before being able to play the game.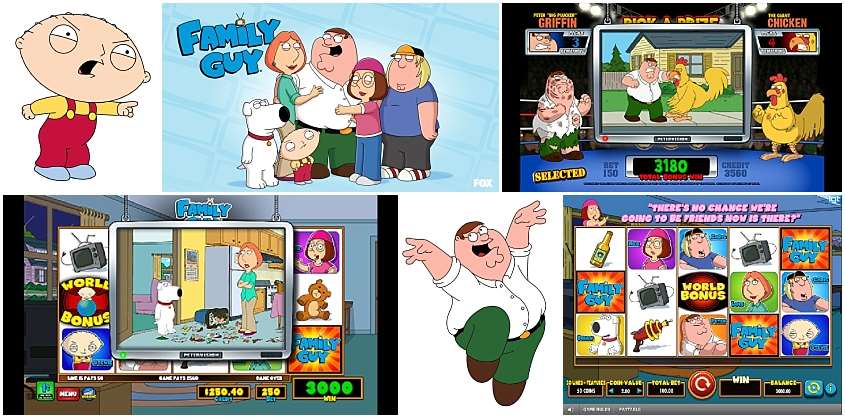 Step Into the Television With The Family Guy Theme
The theme of this slot sticks very closely to the classic television show with the same name. Top of the line graphics beautifully render each of the characters, making for an engaging game you'll love.
Symbols include the characters from the show, including Peter Griffin, Stewie and Brian the dog. Bright colors and fun music adds to the drama and excitement of the theme. If you love watching Family Guy on television, you'll find that this slot game will quickly become one of your favorites.
Game Features
This game is a progressive winning style of game, which translates to the potential for very big winnings. Jackpots may be as low as a couple of hundred dollars but could go up to $100,000. Each of the progressive jackpots is represented by a different character from the television show.
The penny base slots and 3x5 reel interface increases the odds of winning. There are only three bonus rounds, represented by Peter, Lois and Stewie.
When you find symbols that are Peter battling the chicken, you can win pretty big. The number goes up the more chickens you get. In the Lois round, Peter is the wild symbol and can help you win the big jackpot.
IGT Slots Review
Anyone who loves Family Guy will want to play this game time and time again. If you love games with big stakes, this is a slot that you should definitely try today. The game is designed to be fun and you might even forget how big the jackpot is as you enjoy the slot. This game is great for beginners since it's free to play, but old pros will also find it a desirable choice.
* Family Guy trademark / license is owned by IGT. This site is not endorsed by IGT.