Big Time Gaming's Holy Diver Megaways online slot has an RTP of 96.54%. a 6x7 layout, 586,971 ways to win and features such as Shields of Fortune, Chests of Fortune, Free Spins and x3 level Reel Adventures.

Read our full review below.
You must be over 18 to click either button.

Holy Diver Slot Play Free
Holy Diver Megaways is a Medieval themed online slot from Big Time Gaming. The slot offers players up to 586 971 winning ways, along with a wide range of bonus features that include extra wilds, multipliers and free spins.
Holy Diver Megaways Online Slot Theme
The Holy Diver online slot features a medieval theme with vibrant graphics. The game depicts beautifully rendered symbols but, upon first glance, the game doesn't really convey the theme. It looks a lot like Big Time Gaming's Bonanza online slot, and you don't really get "medieval times" from it. Aside from that, it looks great.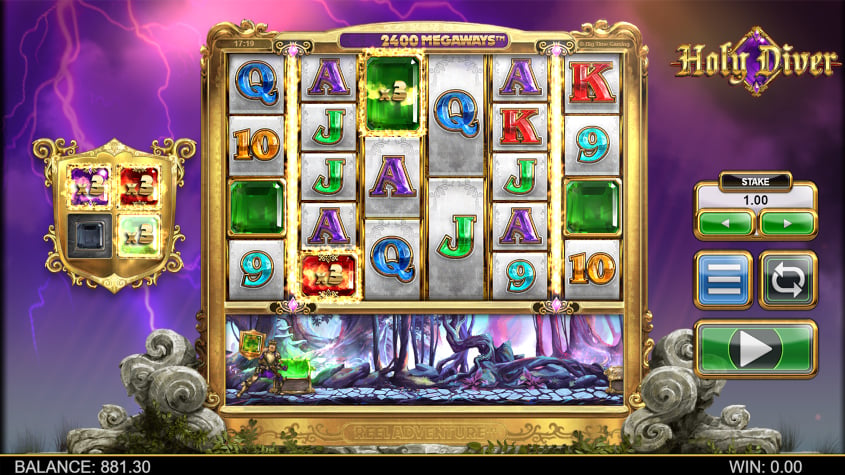 How to Play Holy Diver Slot
Holy Diver is a Megaways online slot, which means that you can trigger up to 586 971 ways to win, depending on the number of symbols that appear on each reel. There are three levels:
- Level 1: 117 649 winning ways
- Level 2: 396, 900 winning ways
- Level 3: 586, 971 winning ways
You can wager anywhere from 40p to £20 per spin, which makes this game ideal for both penny slots players as well as players who have more generous budgets. An autoplay feature is available for up to 100 spins.
What is the RTP of Holy Diver Megaways Slot?
The RTP (return to player) of Holy Diver is 96.39%. This payout percentage lets you know how much money you can expect as prizes for every $100 you wager. It is also a high volatility slots game, which means that you'll be able to cash in on hugely generous prizes; however, they'll come around less often than in low or medium volatility games.
How to Win at Holy Diver Slot
Land three or more matching symbols on adjacent paylines to hit a winning combinations. As you spin the reels, the Knight walks along the path at the bottom of the reels and opens up the chests he approaches. The more generous your wins, the farther he'll walk.
Holy Diver Free Spins and Bonuses
In each chest, there is one of four modifiers:
- Standard Symbol Bonus: all instances of 1 low-paying symbol are turned random
- Sword Bonus: up to three reels are turned wild and multipliers up to x7 are added
- Fireball Bonus:up to four wilds are added to the reels, which then explode and turn other symbols wild
- Gem Symbol Bonus: 1 or more gemstone symbols are turned wild, with a 2x or 3x multiplier applied
Any gems that are revealed in the chests are added to the shield alongside the reels. When all four gems are added to the shield, you can level up (which will offer you more winning combinations) or trigger the free spins round. If you fill up the shield at Level 3, you'll trigger the free spins bonus anyway. Depending on which level you trigger the free spins, you'll get extra wild symbols:
- Level 1: every gem symbol turns wild
- Level 2: every gem symbol turns into a 2x wild multiplier
- Level 3: every gem symbol turns into a 3x wild multiplier
During the free spins round, the Knight will continue is journey. As you collect diamonds, you'll be able to retrigger the bonus with more free spins.
Holy Diver Megaways Demo Play
Ensure that you play the Holy Diver slot demo for between 150 and 200 spins for free before deciding whether or not you'd like to spend real money on it. This way, you'll have plenty of time determine if you'll get along with the gameplay and if it will support your budget.
Overall Review – Holy Diver Slot
Holy Diver offers up amazing gameplay – so, while the theme may not be full realized, the actual bonuses will keep you engaged. We're very impressed with this online slot, and it's certainly a welcome addition to Big Time Gaming's existing collection. So, if you're already a fan of the MegaWays series, do give Holy Diver a spin.
The Holy Diver Megaways slot theme
Unless you are a fairly hard-core heavy metal fan, you might not be aware of the Holy Diver album released by Dio in the early 1980s. The band took its name from its lead singer and founding member, Ronnie James Dio, who had previously performed with Rainbow and had more recently replaced Ozzie Osbourne in Black Sabbath. Holy Diver was Dio's biggest and best-known single, with the performer claiming that the song's lyrics were about a religious leader who was prepared to die to save the souls of his followers, constantly heading for new worlds where he could spread his message of salvation. It might seem an unlikely subject for a heavy metal band to focus on, but Dio claims that he was greatly inspired by reading the works of JRR Tolkien and Sir Walter Scott.
Once you understand the background to the Holy Diver song, the slots game based loosely around the lyrics starts to make a little more sense. When you land the Free Spins bonus round of the game, it all becomes even clearer, as the soundtrack to the song accompanies the on-screen action to great effect. The song's official video features Dio himself dressed as a mediaeval warrior. This is reflected in the theme of the slots game; however, the art department has taken a few liberties to create the graphics, primarily by giving the game's hero a rather smart suit of armour and creating a succession of luxurious gem symbols across the reels.
Our first impressions of the Holy Diver slot
We always look forward to trying out a new Big Time Gaming slots game, as the company has built up a great reputation amongst slots fans for creating innovative games packed to bursting with bonus features. As every keen slots gamer knows, bonus features are what encourages them to keep returning to spin the reels of their favourite games.
The game opens to reveal the top of a mountain peak. In the background, dark storm clouds are gathering, but there are some wisps of white clouds and a patch of blue sky amongst the gloom. The playing area is set against the mountain backdrop and is contained within a brass frame decorated with engravings and some elaborate ornamentation. Pieces of ornate stone hold the brass frame in place, with clusters of greenery providing further decoration.
To the left of the reels is a knight's shield - the shield of fortune - that contains spaces to hold four precious gems. To the right of the reels are the player's controls. Just below the six dynamic reels of the game is the Reel Adventure strip, on which a knight travels in an arcade-style game that joins the action as it unfolds across the reels.
A delicate choral melody plays out as the soundtrack to the base game, with gentle guitar notes and occasional crashing cymbals that help to create an air of mystery. As with most games of this type, there is an option to turn the sounds off completely if you prefer a quieter gaming experience. We found that the musical interludes never became annoying, although this is obviously a matter of personal choice! If you happen to be a heavy metal fan, you will definitely want to turn your speakers up when you hit the game's Free Spins bonus so that you can listen to the Holy Diver song in all its glory!
Holy Diver volatility
Before playing any new slots game for real money, it is very important to make sure that the game offers the appropriate level of risk to suit both your playing style and your wallet. High rollers are always chasing their next big win and they understand that this involves a very high level of risk, so they instinctively seek out high volatility games to play. High volatility games can go through some long, lean periods, during which nothing much of interest happens across the reels until a substantial win is triggered. This almost certainly would not interest low-stakes players, who will quickly see their balance dwindle down to nothing when they spin the reels, although playing such games for free provides all the fun with none of the associated risks.
Low volatility games, on the other hand, are something that high-stakes players would not want to waste their time on. These games are designed to deliver plenty of wins, although the sums involved are very much smaller. This makes them the best choice for cautious and risk-averse players.
Medium volatility games are designed to appeal to every type of player, with an excellent range of betting options that enable every player to find their perfect wagering levels. Bet low and you can expect to receive enough low-value wins to keep you engaged with the game, or go for broke and chase those high-value cash prizes.
In the case of Holy Diver, the constantly-changing game mechanics make the volatility highly variable. In the base game, you will find that it is a low- to medium-volatility game; however, the level of volatility rises as you progress through the three levels of the game. By the time you reach the final level, the game has become high volatility. You have the option of choosing to take the Free Spins bonus or to level up, so there is no obligation to play the higher-volatility levels if you don't want to.
Holy Diver Reel Adventure
Holy Diver introduces yet another innovation from Big Time Gaming that works alongside its existing Megaways mechanic. This sees the introduction of an arcade-style game feature that plays out just below the reels. The knight travels from left to right across the rolling screen, travelling through different regions and uncovering treasure chests as he goes. Each time he reaches a treasure chest in his path, he kicks it open to reveal a reel modifier, which is then applied to reels two to six. The modifier could be wilds, multipliers or jewel collections to add to the shield of fortune, which will eventually trigger the Free Spins round once all four have been collected.
It is certainly an interesting premise to introduce the Reel Adventure feature, which adds an extra level of interest to the game. The knight is there to help you spin some cash prizes and we found it rather nice to have a little company as we spun our way through the different levels of the game.
The Holy Diver Megaways mechanic
It might seem as though the Megaways mechanic has been around forever but it is actually a surprisingly recent invention; in fact, the first appearance of Megaways was in 2016, when BTG released its highly-popular Dragon Born slots game.
For those not familiar with Megaways, the system completely does away with the concept of paylines, so there is no decision to be made about how many, or how few, to include with each spin. Instead, the player benefits from a Ways To Win principle, which pays out whenever matching symbols appear on consecutive reels starting with the reel furthest to the left of the playing area; for example, if you spin a 10 on the first reel with further 10 symbols occurring on reels two and three in any position, you score a win. A 10 on the first reel followed by further 10s on reels three and four would not result in a win, as a 10 does not appear on reel two.
This is a familiar mechanic that we have seen in loads of Ways To Win games. What makes the Megaways feature so unique is that the reels are dynamic, which means that the number of symbols contained on each reel changes with every single spin. There could be anything from just two symbols up to seven symbols on a single reel, giving a potential 586,971 Ways To Win!
Since the number of Ways To Win changes with every spin, most Megaways games include an indication of the number of Ways To Win that are provided with each spin. In the case of Holy Diver, you will find this information is provided at the top of the playing area, following each spin, which helps you to keep track.
BGT quickly discovered that it had struck slots gold with the Megaways feature, as slots fans fell over themselves to spin the reels of Dragon Born as soon as it was released. This led to the software developer quickly creating more games based around the mechanic before offering licences to other software developers, who were soon queueing up to take advantage of the offer. Blueprint Gaming was one of the first companies to spot the potential of Megaways and has become the second most prolific creator of Megaways slots games. Megaways games are also now produced by Storm Gaming, SG Gaming, Relax Gaming, Red Tiger Gaming and NextGen Gaming, with other developers quickly signing up so that they can create their own Megaways titles.
Holy Diver FAQ
Can I play Holy Diver slots for free?
You can play Holy Diver right here at Slots Temple without having deposit at or sign up to an online casino.
Does Holy Diver slot have free spins?
The free spins round in Holy Diver is triggered when you fill the shield metre with all of the differently coloured gems.
Can I win real money playing Holy Diver slots?
To win real money playing Holy Diver slots, sign up to a Big Time Gaming-powered online casino. There, you'll be able to make a deposit and play for prizes with real cash value.
Can I play Holy Diver slots with no deposit?
While Holy Diver is not available as a no deposit slot at real money casinos, you can play this game for free at Slots Temple. However, it's important to remember that your prizes are paid out in play money.
Can I download Holy Diver slots?
Since Holy Diver slots from Big Time Gaming is an HTML5-powered game, there's no need to download any software.
* Holy Diver Megaways trademark / license is owned by Big Time Gaming. This site is not endorsed by Big Time Gaming.